Press Release
ACDC Web Talk
on
"Evolving Strategic Environment in the Western Indian Ocean and Significance of AMAN EXERCISE 2021"
February 10, 2021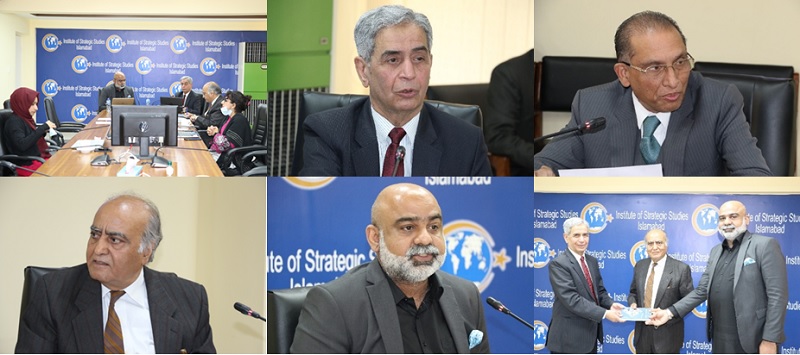 The Arms Control and Disarmament Centre (ACDC) organized a Web Talk on "Evolving Strategic Environment in the Western Indian Ocean and Significance of Aman Exercise 2021," by Vice Admiral (R) Iftikhar Ahmed Rao HI (M) on Wednesday, February 10, 2021. Vice Admiral (R) Iftikhar Ahmed Rao HI (M) emphasized that today maritime interests and challenges are common such as freedom of navigation, safe flow of commerce, protection against criminal activities like piracy, smuggling, drugs, and human trafficking, deterrence against terrorism and protection of the oceans' resources.
He noted that today's threats are of a transnational or global nature. Also, the maritime challenges go beyond the narrow concept of interstate conflict. Thus, the concept of collaborative maritime security has gained preeminence. The Aman exercises are an effort to this end. He said that Aman series exercises are very important and a commendable effort in promoting peace and security at sea. They are unique because they are not aimed at any country or perceived threat from any country or group of countries. They are aimed at common threats to peace and security at sea and in the region. Thus, they are inclusive, not exclusive. The exercises have brought 45 countries together including China, the US, and Russia. Pakistan has chosen to act as a bridge in the region and a peacemaker in the maritime domain. This, he said, is a message of solidarity against miscreants. It will help enhance interoperability between regional and extra-regional navies with Pakistan Navy acting as a bridge in the region. It will also help learn from each other's experiences. Pakistan also aims to promote maritime diplomacy and soft image through various events on the sidelines of the exercise.
Earlier, in his welcome remarks Ambassador Aizaz Ahmad Chaudhry, Director General, ISSI said that the Aman exercise has now become an institutional affair, contributing to regional and extra-regional efforts to combat piracy, human and drug trafficking. It aims to contribute to peace and security through economic prosperity and by bringing regional navies together. Having large navies like the US, Russia China is a testament to the importance of bringing these countries for a cooperative effort
Malik Qasim Mustafa, Director ACDC-ISSI, in his introductory remarks said that with a motto of "Together for Peace," "Aman 2021" is aimed at promoting peace and cooperation and countering evolving maritime challenges including non-traditional and common security threats like piracy, arms, and drug trafficking, human smuggling, terrorism, and climate change. Pakistan Navy has always contributed towards regional maritime security and through the Aman exercise, it is playing the role of a bridge between other regional navies.
In his concluding remarks Ambassador Khalid Mahmood, Chairman, BOG ISSI, said that in today's maritime domain security and economic interests are interlinked. He emphasized the need for cooperative security and the need to learn from other navies. He lauded the Aman exercise that would be of global importance and benefit. The web talk was followed by an interactive discussion.