Institute of Strategic Studies Islamabad (ISSI) – Heart of Asia
Society (HAS), Kabul
Track II Dialogue
"Shared Peace, Security & Prosperity: Afghanistan-Pakistan Bilateral
Track II Dialogue"
August 11, 2021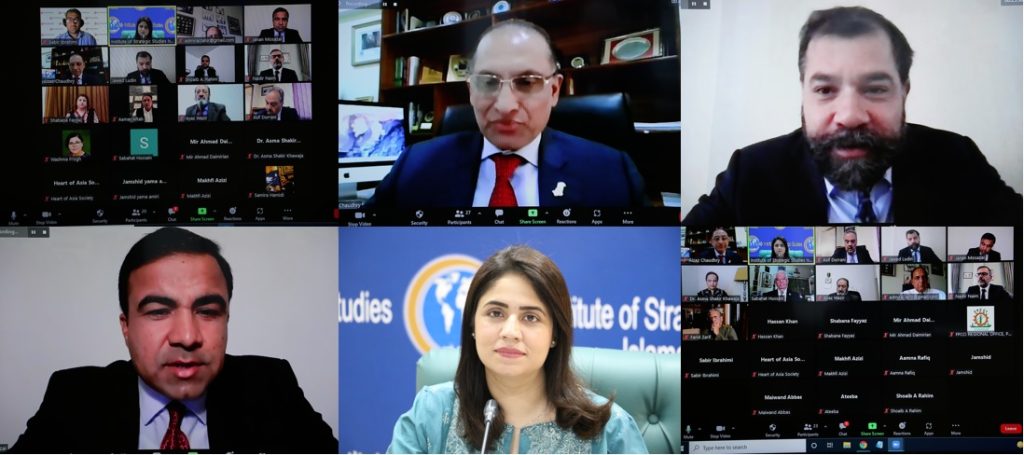 The Institute of Strategic Studies Islamabad (ISSI) and Heart of Asia Society (HAS), Kabul held the second in the series of bilateral dialogue, titled 'Shared Peace, Security & Prosperity: Afghanistan-Pakistan Bilateral Track II Dialogue', today. The dialogue was hosted by the Centre for Afghanistan, Middle East and Africa (CAMEA)
The Keynote address was given by Mr. M. Aamar Aftab Qureshi, Additional Secretary Ministry of Foreign Affairs, Pakistan.
The dialogue consisted of two sessions. The first session titled 'Taking Stock of Afghanistan-Pakistan Relations and Windows of Opportunity for Cooperation' was moderated by Ambassador Mosazai, Vice President of the Heart of Asia Society and the second session titled 'Taking Stock of Afghanistan-Pakistan Transit and Trade Relations' was moderated by Ms. Amina Khan, Director CAMEA at ISSI.
The second in the series of ISSI-HAS Track II was arranged in order to explore and debate core issues pertaining to the bilateral relations between Afghanistan and Pakistan; and to provide recommendations on how to achieve a constructive and mutually beneficial agenda of dialogue and cooperation between the two countries.
Both sides acknowledged that maintaining a dialogue in challenging times is crucial. All speakers agreed that a military takeover is not the solution. There must be a political solution to get out of this crisis. A political settlement through intra -Afghan dialogue and support from the region especially Pakistan is the need of the hour.
Panelists from the Afghan side included: Ambassador Farid Zarif former Afghanistan Permanent Representative to the United Nations and United Nations SRSG to Liberia, Ambassador Jawed Ludin President and Co-Founder of Heart of Asia Society and former Deputy Foreign Minister of Afghanistan, Ambassador Janan Mosazai Vice President and Co-Founder of Heart of Asia Society, and former Ambassador to China and Islamabad, Mr. Sardar Mohammad Nadir Naeem Chairman of the Board of Directors at Kabul Institute for Peace, Ms. Wazhma Frogh Woman Rights Activist and Peace & Conflict Practitioner, Ms. Samira Hamidi Campaigner at Amnesty International's South Asia, Mr. Mohsin Amin Economic Analyst Afghanistan, Ms. Shafiqa Khpalwak Writer and Poetess and Mr. Shoaib Rahim Economist.
Panelists from the Pakistan side included: Ambasssador Aizaz Ahmad Chaudhry Director General at ISSI, Lt. Gen Syed Sabahat Hussain former Corps Commander Multan, Ambassador (Retd) Asif Durrani Senior Research Fellow at IPRI Pakistan, Ambassador (Retd) Ayaz Wazir former Representative of Pakistan in OIC's Committee on Afghanistan (1999-2000), Ms. Amina Khan Director Center for Afghanistan, Middle East & Africa at ISSI, Ambassador Khalid Mahmood Chairman of Board of Governors at ISSI , Dr. Asma Shakir Khwaja Associate Professor at National Defense University (NDU), Dr. Shabbana Fayaz Professor at Quaid e Azam University (QAU), Mr. Adnan Jalil President of Peshawar Chamber of Commerce and Industry (PCCI), Mr. Hassan Khan Journalist, Mr. Oves Anwar Director of Research Society of International Law (RSIL), Mr. Admiral Mohammad Afzal Tahir former Chief of Staff to the Pakistan fleet commander and instructor, Mr. Sayed Soherwardi Head of International Relations at University of Peshawar and Mr. Mohammad Nasir Mirza President of Rawalpindi Chamber of Commerce (RCCI).