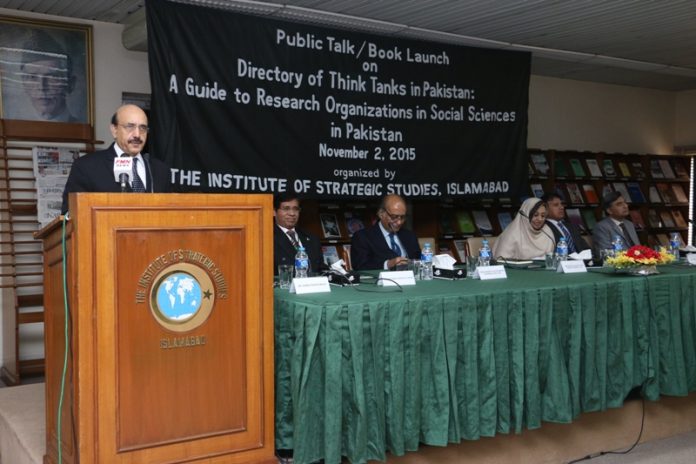 The Institute of Strategic Studies Islamabad (ISSI) hosted a Public Talk/ Launch of Book Directory of Think Tanks in Pakistan: A Guide to Research Organizations in Social Sciences in Pakistan today. The directory has been compiled by Dr. Ahmad Rashid Malik, Senior Fellow, Institute of Strategic Studies, Islamabad and published by Institute of Peace and Diplomatic.
The speakers at the Talk/launch included: Mr. Waheed-ul-Hasan, Special Secretary, Ministry of Foreign Affairs, Dr Ahmad Rashid Malik, Senior Research Fellow, ISSI, Dr Muhammad Khan, Head of Department of International Relations, National Defence University, Islamabad, Mr. Ghulam Mujaddid, Dean, Social Sciences, Air University, Islamabad, and Ms. Farhat Asif, President, Institute of Peace and Diplomatic Studies, Islamabad.
Ambassador Masood Khan, Director General, ISSI, in his welcome remarks said that the book was a unique contribution because no such directory of thinks tanks exists in Pakistan to date. He noted that the diplomatic community and think tanks were already using and benefitting from the directory which was a testament to the importance of the book.
The speakers lauded Dr. Malik's efforts to fill a vacuum in the database of research organizations in Pakistan. They underscored the role of research and research organizations in the country and the need to expand research efforts further. The speakers especially stressed on the need to widen the focus of research from international relations and strategic studies to human development and civil societies issues, and focus on neglected regions including Latin America, Africa, and Oceania. They were unanimous in their views that the directory would need to be updated on a constant basis.
Ambassador Khalid Mahmood, Chairman BOG, ISSI in his concluding remarks lauded the pioneering work of Dr. Malik in filling the gap on database of think tanks. However, he suggested that research organizations with one or zero researchers should not be listed in the directory. He also pointed to some important omissions in the database like the Islamabad Council of World Affairs.
  Ghazla Y/02112015