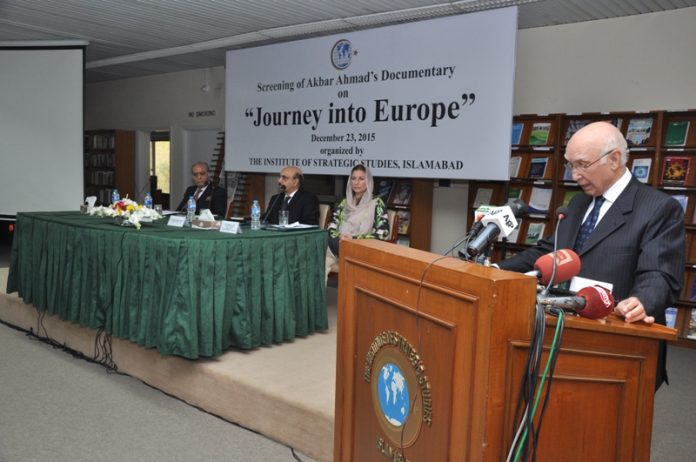 Press Release by the Institute of Strategic Studies, Islamabad
Akbar Ahmad's Screening of Documentary on "Journey into Europe"
Today the Institute of Strategic Studies (ISSI) hosted the screening of a documentary "Journey into Europe" by renowned anthropologist and Islamic scholar, Ambassador (Rtd.) Akber Ahmed. The Chief Guest on the occasion was Honourable Mr. Sartaj Aziz, advisor to the prime minister on foreign affairs. Speaking on the occasion, Mr. Aziz stated that in the aftermath of the Paris attacks a debate dominated by prejudice and hate has started. Thus, there is a growing urgency to appease this surge of hate and hostility towards Muslims. Mr. Aziz stated that this documentary does just that. Through its comprehensiveness and depth it explores and promotes peaceful co-existence and also shows the repercussions of not respecting other people's rights. Hence, this film is vital to promoting relations between Muslims and Non-Muslims. He stated that this film's greater understanding would without doubt be an important contribution in a time when such scholarship is desperately needed.
The Director General ISSI, Ambassador Masood Khan during his welcome remarks praised Ambassador (Rtd.) Akber Ahmed and stated that the ambassador was a conduit between the Eastern and the Western worlds. He stated that the message of the documentary is not despondence but hope. It explores how Christians, Muslims and Jews can live together and promote harmony and peace. He pointed out that after the Paris terrorist attacks, some existential questions have emerged and highlighted the fact that Europe and Islam are not quintessentially different or disparate. Many parts of Europe steeped in Islamic civilization, whose culture, language, architecture and knowledge has left an indelible mark on modern European thought and renaissance. Similarly, Europe has left a strong imprint on the Middle East, Africa and Asia and shaped Muslim worldview. So an interface of cultures already exists. The Director General stressed on the point that it is a collective responsibility to stop the hand of the terrorist from hurting Europe, its people and its cities. He stated that humanity has to work together to frustrate the murderous designs of the masterminds of terror, repulse their attacks and destroy the entities that support them. At the same time, Europe has to restore self-confidence to stop incitement of hatred against Muslims living in Europe. He highlighted the fact that as Hitler, Mussolini, Milosevic and Karadzic do not represent Europe, Baghdadi and Osama Bin Laden do not epitomize or speak for Muslims and Islam.
The Ambassador acknowledged that strained relations between the West and Islamic world did exist and stressed on the fact that a continuing self-healing process was needed in Europe so that situations similar to the atrocities committed during the interwar period of the last century and the Second World War are not repeated, this time against Muslims. Simultaneously, he said that the Muslim world needs its own reformation to turn the tide of violent extremism that threatens the Islamic and Western countries. He stated that this was not just about crafting narratives but changing reality on the ground by embracing tolerance, co-existence and scientific innovation. Here he added that the international community must find ways to resolve the issues of Jammu and Kashmir and Palestine.Ambassador Masood stated that there was a need to focus on the commonalties between the Muslim and European worlds and try to build on them to eliminate strife and conflict and steer the world towards shared prosperity. He accentuated that Pakistan wants to be a crucible for that transition for integrating humanity and concluded his remarks by quoting from the documentary, "Fear should not mutate into hatred".
The keynote speaker, Dr. Amineh Hoti who is the Executive Director of the Markaz-e-Ilm Center for Dialogue and Action briefly talked about the film. She talked about how "Journey into Europe" involved a lot of extensive fieldwork and included the participation of people from various streams of life, from prominent European leaders such as the archbishop of Canterbury to local taxi drivers. Dr. Hoti stressed that the world is in great need for peace at this time and highlighted the fact that this project changes the trend of Western scholarship in regards to Asian and African societies. It showcases that non-European scholars on the outside can also make a significant contribution in research. She talked about the fact that the European Muslim community is greatly misunderstood especially on the topics of women and terrorism. It is thus important that Muslims should be better able to explain themselves and be given the opportunity to explain their faith and heritage. She focused on how the founder of the nation, Quaid-e-Azam, fought for women rights setting out a perfect example of pluralism. The next generation should be enabled to strive for the Quaid's vision. In Pakistan a very diverse community exists. Thus respect of the other must be promoted and each individual should be made to feel included in the society.
'Journey into Europe' explores the place of Islam in European history and civilisation. Dr Amineh Hoti was a key member of the team taking part in the entire fieldwork research and filming with a special focus on women's issues. Based entirely on fieldwork, this comprehensive film explores relations between Muslims and non-Muslims in Europe today, while also teaching the lessons of Andalusia and la convivencia- centuries of peaceful Muslim rule and their promotion of knowledge and coexistence among Muslims, Jews and Christians. Along the way, we hear from presidents and prime ministers, archbishops, chief rabbis, grand muftis, heads of right-wing parties and ever-day Europeans, while seeking ways to improve relations between Muslims and non-Muslims today.
Arhama S/23122015