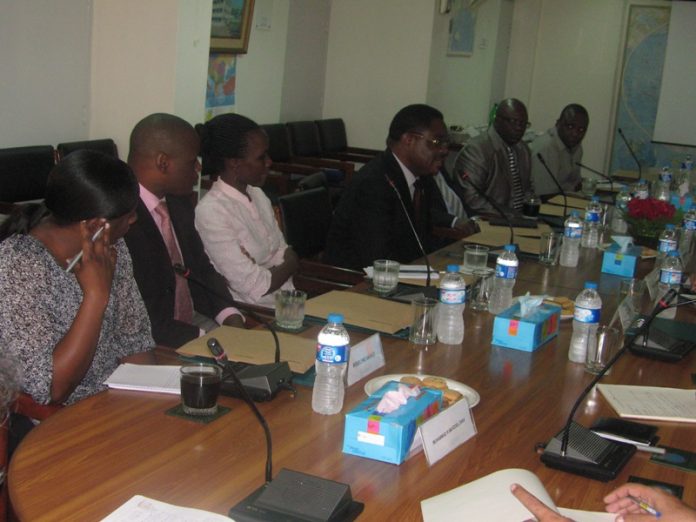 The Institute of Strategic Studies, Islamabad, hosted an In-House meeting today with a four-member Kenyan delegation, comprising of officers from the Foreign Service Institute (FSI), Kenya. The delegation was lead by Amb. Simon Nabukwesi, Head of the Kenyan FSI. Other members of the delegation included Ms. Dorothy Rotich, Peter Nalanda, and Roselyne Anjalo. The delegation was accompanied by members of the Kenyan High Commission in Islamabad including Harrison K. Kinyanjui, Deputy High Commissioner. The meeting was hosted by the ISSI researchers led by Ambassador Masood Khan, Director General, ISSI. The meeting was also attended by Ambassador Arif Ayub, President, Institute of Regional Studies (IRS), Ambassador Sohail Amin, President, Islamabad Policy Research Institute (IPRI), Mr. Khalid Rehman, Director General, Institute of Policy Studies (IPS), and Mr. Irfan Ahmad, Director, Foreign Services Academy (FSA).
While welcoming the delegation, Ambassador Masood Khan, Director General ISSI, said that other countries look up to Kenya, including Pakistan, and that we have plenty of room for growth.
Ambassador Nabukwesi said that his team was in Pakistan on a mission to learn from the good practices of the civil services of Pakistan. He said that both Kenya and Pakistan shared similar experiences in terms of issues like terrorism, proliferation of small arms and democracy. He said that all the issues need to be managed effectively, particularly democracy which cannot be imposed from outside. There needs to be an "African solution to African issues". He insisted that culture must form the backbone of the value system of the Africans and they should not be imposed through western values and culture. The Kenyan delegation emphasised that they would like to engage with Pakistan more on trade issues.
Earlier, in his remarks, Ambassador Nabukwesi praised the work ethics and professionalism of Pakistanis which he said showed their patriotism.
Sarah A/ 11092015