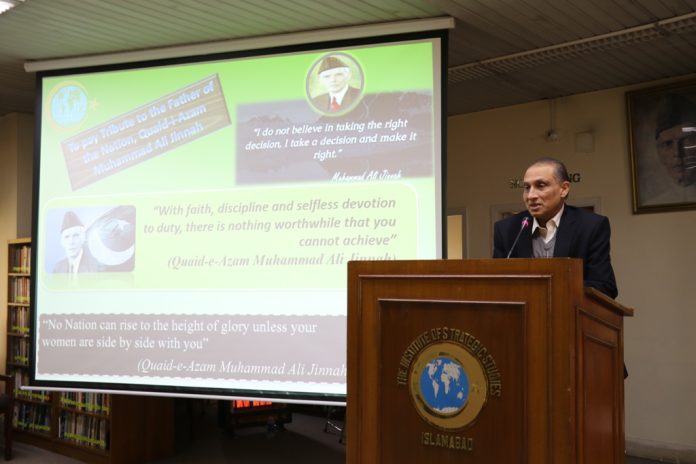 Institute of Strategic Studies Islamabad (ISSI) held an In-House meeting on December 27, 2019 to celebrate Quaid-i-Azam Muhammad Ali Jinnah's life and achievements on the occasion of his birthday. Research faculty and the administrative staff attended the event. Director General ISSI, Ambassador Aizaz Ahamd Chaudhry in his opening remarks stated that "Quaid is our benefactor and it is because of him that we are enjoying freedom and liberty in Pakistan." Optimum way to commemorate Quaid, Ambassador Chaudhry said, is to adopt principles and values of Quaid in our national life.
Members of research faculty shared their views on different aspects of Quaid's life including his thinking towards Hindus and the need for a separate homeland for Muslims; and treatment of minorities in Pakistan. Quaid's guidelines for Pakistan's foreign policy were also discussed. It was highlighted that Pakistan can progress only by following Quaid's ideals in letter in spirit.
Concluding the meeting, Ambassador Khalid Mahmood, Chairman of the ISSI Board of Governors, underscored the centrality of Quaid to creation of Pakistan and our independence. He noted that it is only by following Quaid's principles that we can preserve our freedom and advance as a nation-state.