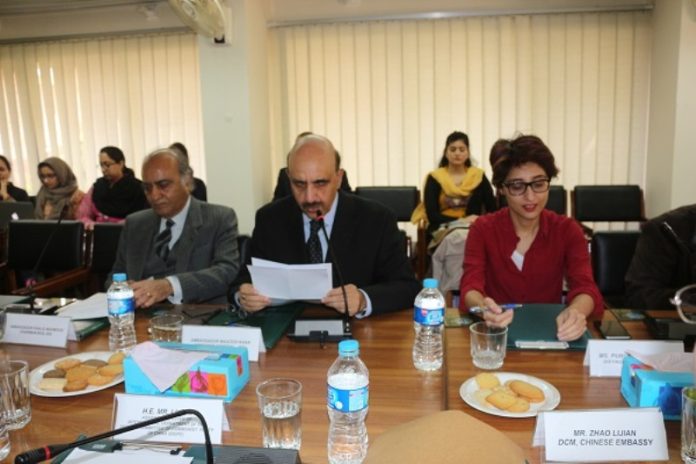 Press Release 
March 15, 2016 
The Institute of Strategic Studies Islamabad (ISSI) held an in-house discussion today with a six-member delegation from the International Department of the Communist Party of China (IDCPC). The delegation was led by Mr. Li Jun, Assistant Minister of International Department of the Central Committee of Communist Party of China (IDCPC. Other member of the delegation included Mr. Yuan Ruidong, Director, IDCPC, Ms. Jia Peng, Deputy Director, IDCPC, Mr. Wang Bo, Deputy Director, IDCPC, Mr. Wang Yuwei, Second Secretary, IDCPC, and Mr. Tan Wei, Staff Member, IDCPC.
Other invitees at the meeting included Lt. Gen. (Retd) Talat Masood, a renowned defense analyst, Ms. Puruesh Chaudhary, Distinguished Fellow at ISSI, and Dr Sarwat Rana, Head of International relations Department at NUML.
Ambassador Masood Khan, Director General ISSI, warmly welcomed the delegation and underlined Pakistan's strong relations with China including with State's institutions and the CPC. He thanked for China offering the CPEC, which is also the flagship project for the success of the Belt and Road initiative.
Mr. Li Jun gave a comprehensive account of the economy of China, the present slow down, and its future outlook. He added that this year marks the 65th anniversary of China-Pakistan bilateral relations and described the depth of bilateral strategic relations. He said that the month of March each year is a significant month for developing the Five-Year Economic Plan by the CPC.
He pointed out the positive outlook of the Chinese economy despite the slowdown in many developed economies. He said that there are multiple challenges facing the Chinese economy but there are opportunities as well. China's economy is based on a solid foundation and the Government is taking prudent measures and adopting reforms to maintain high growth.
He opined that the present economic growth of 6.9 per cent in China could create another G-20 country. He threw light on China's two centenary goals:  uplift 100 million people from rural to urban areas to double national prosperity and double the per capita income by 2020 and by then, Chinese Gross Domestic Product (GDP) would be US$ 16 trillion; develop China into a modern democratic socialist country by 2049.
He was optimistic about the Sino-Pakistani bilateral economic relations and the prospects and the potential of Pakistan's economy to do wonders. He said that China will be Pakistan's partner on its way to do wonders.
Mr. Li Yun has interacted with researchers of the ISSI and the guests that have been invited.
Ambassador Masood Khan in concluding remarks said that China is massively investing in key sectors in Pakistan's economy. Pakistan and China, he said would overcome difficulties in the implementation of the CPEC projects. He agreed with Mr. Li Jun that all nations participating in the Belt and Road projects should pursued reforms, development, and stability. Pakistan, he said, was confident that its economy would takeoff as it has already turned over.
Ambassador Khalid Mahmood, Chairman, Board of Governor, ISSI, also attended the meeting.