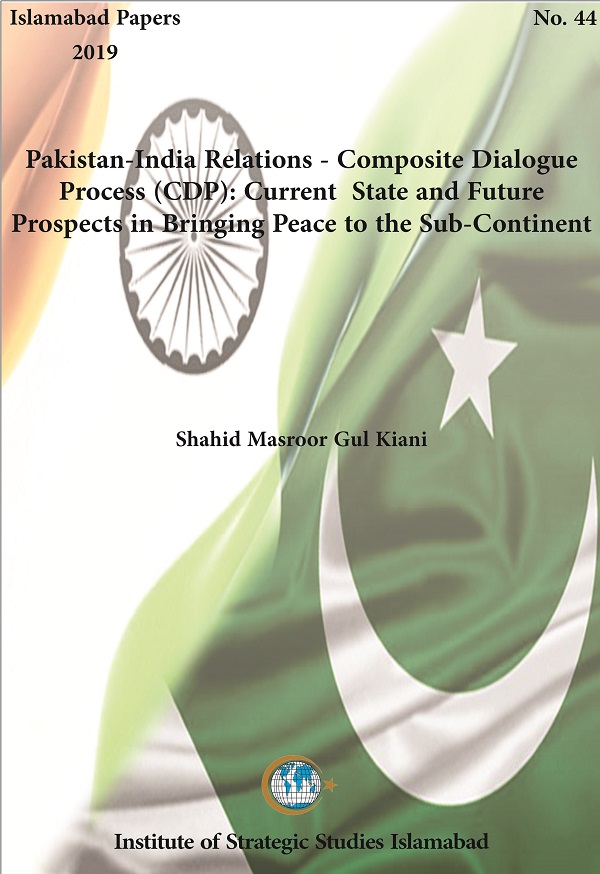 Preface
Writing a research paper is both labor intensive and a journey of discovery, but leads to a most rewarding exercise.   While writing the research paper on "Pakistan-India Relations–Composite Dialogue Process (CDP): Current State and Future Prospects in Bringing Peace to the Sub-Continent", was one such topic worth the effort which was put in and which I can call, an exercise of discovery, which also made me more wiser on the relationship of these two neighbours.
The research lasted three months, all spent to dig deep into all the possible sources aimed to arrive at some conclusion and also suggest certain course corrections in the policies of both Pakistan and India, which all point towards the path of peaceful co-existence. Neighbors have little leeway, but to learn to co-exist, so that they spend their energies and resources in improving the lives of their people. In the case of Pakistan and India, the populace cries out for improving their health, food security and purposeful education of their children. Given a chance to choose between war and peace, the people of Pakistan and India, would willingly stretch their hands across the border to clasp a similar hand, as war fatigue has set in both the neighboring states. If the US, the sole Super Power is feeling the war fatigue, a luxury it once could afford, Pakistan and India have hardly the stomach for such a luxury.
As Pakistan-India relations have taken an ugly turn in wake of the Indian Government decision to revoke the special status accorded to Indian-Occupied Kashmir in its constitution, the most far-reaching political move on the disputed region in nearly 70 years, which seems to have boomeranged, Ambassador Aizaz A. Chaudhry, DG ISSI and Mr. Andreas Duerr, Director HSF are to be commended for their foresight in having chosen the "Pakistan-India Relations – Composite Dialogue Process (CDP): Current State and Future Prospects in Bringing Peace to the Sub-Continent".  The strained relationship of Pakistan and India is a global hot topic. Pakistan and India coming to the table, either sooner or a little later to thrash out their misgivings and issues of concern are not out of the realm of possibility; Prime Minister Imran Khan's had all along chosen the path of talks and Prime Minister Modi may also spring a surprise to reciprocate, as reflected in his recent talks with President Trump on the sidelines of G-7 Summit in France when he assured that, "India and Pakistan were together before 1947 and I'm confident that we can discuss our problems and solve them, together".
I am most appreciative of Ambassador Aizaz, DG ISSI and Mr. Duerr, Director HSF to have reposed their trust in me to undertake the research and to have also guided me as the research paper took shape. I also most grateful to Ambassador Khalid Mahmood, Chairman ISSI who chaired a lengthy session of researchers at ISSI during which I defended both the outline of the research paper and the contents of the research so far done. My appreciation would not be complete if I do not mention Mr. Najam Rafique, Director Research at ISSI for having painstaking looked at my drafts and guided me.  Mr. Abid Hussain, Library Officer's generosity in loaning me the books and always with a smile is to be commended. I also extend my appreciation to the input of a group of ISSI researchers with whom I had a fairly lengthy session.
Ambassador Shahid Masroor Gul Kiani, Fellow Islamabad, 26th August, 2019
Read More