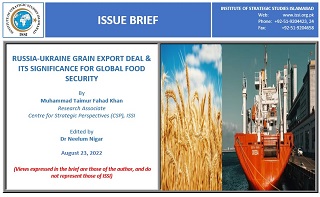 According to the UN Report titled, "The State of Food Security & Nutrition in the World 2022"[1], it's estimated that around 702 to 828 million people were affected by hunger in 2021 alone. Since the outbreak of COVID-19 pandemic, this number grew by 150 million. The situation was made worse by the commencement of the Russia-Ukraine War on February 24, 2022.
The war will enter its 6th month on August 24 and it has brought the world to the brink of a severe global food crisis with acute energy shortage, unprecedented inflation, steep price hikes and major disruption in supply chains across the globe.
Observing the prevailing situation on ground, it seems that the Russia-Ukraine War is far from over and it would be long before any negotiated settlement is reached between the warring parties, however, the signing of a landmark grain export deal between Russia and Ukraine has been an extremely encouraging and positive development amidst all the hostilities and violence.