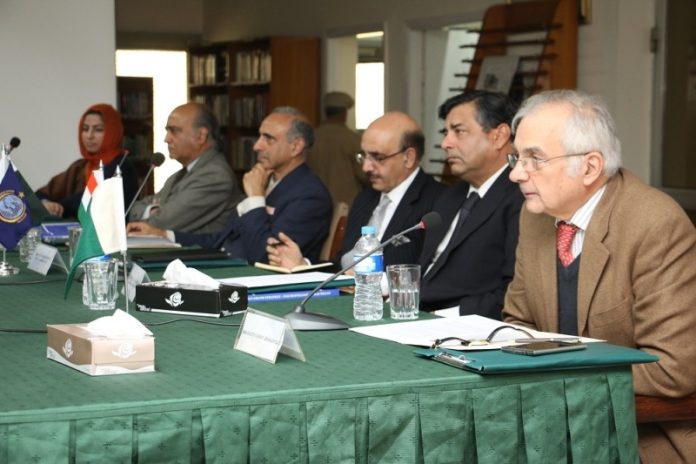 Press Release by the Institute of Strategic Studies, Islamabad
December 29, 2015 
The Institute of Strategic Studies, Islamabad (ISSI), in collaboration with the Institute of Regional Studies, Islamabad (IRS) organised a Public Talk and book launch of "Indian Grand Strategy" (2nd Edition) , an IRS publication today.
Ambassador Masood Khan, Director General, ISSI, in his welcome remarks observed that during the previous book launch in September, tensions between India and Pakistan were high. Now however the atmosphere was completely different. This he credited to the two informal meetings between the countries' prime ministers – one in Paris and one in Lahore and the various exchanges held by both countries' national security advisors during this time. He also pointed out that a 10-point agenda for a comprehensive dialogue has been announced, the timetable for which will be fixed in the upcoming month and stated that this turnaround is a vindication of Pakistan's stance throughout this year. No matter how deep the differences or how high the tensions, Pakistan has always called for resumption of talks and held its moral high ground. He acknowledged the statesmanship shown by Prime Minister Nawaz Sharif and the reciprocal gestures made by Prime Minister Modi and appreciated the fact that despite residual dissension, political forces in both countries appeared on board. He stressed on the fact that this renewed engagement between the two countries should be recognised and there should be a political resolve on both sides that discourse should not be interrupted. If serious differences arise, there should be more dialogue, not less; or no dialogue at all. More importantly, commencement of dialogue or its continuity should not be used as a bargaining chip.  All this he indicated was crucial for peace, stability and shared prosperity.
Ambassador Masood stated previous dialogues had amounted to nothing partly because back channel diplomacy was stalking them while the front channels talks, especially on Kashmir, though very rigorous were no more than a farce since they only touched on the fringes. He stated that war was not an option- both countries' being nuclear powers and even though Pakistan is not seeking parity, but in reality proportionality equals parity equals deterrence. So any misadventure would be highly risky. That is why, regional is strategic stability and not gamesmanship was needed. The Director General further stressed that the Jammu and Kashmir dispute is the keystone of the Pakistan-India Agenda for talks and can neither be swept under the carpet nor dispatched to the back burner. However, he stressed that the talks on Kashmir should focus on the aspirations of the people in accordance with the UN Security Council resolutions and should include the entire geographical territory of Jammu and Kashmir, not parts of it. He was hopeful that in the near future, one would see high level diplomacy, informal contacts, structured comprehensive dialogue, and people of people exchanges. The more transparent the talks, the more traction they will gain with the people of the two countries. He stressed that negotiators on either side have to use their skills to work out solutions that make political sense in both countries and as the talks proceed, it would be crucial to stem the tides of communalism and extremism and avoid incendiary rhetoric, which would vitiate the atmosphere for engagement. He concluded by welcoming H.E. T.C.A. Raghavan and applauded his performance as a diplomat, though some of his statements have evoked sharp reactions and protests and wished him well in his future endeavors.
Ambassador Ashraf Jehangir Qazi, former Pakistan's High Commissioner to India stated that previous dialogues between India and Pakistan had been interrupted because of the negative perceptions which are deeply rooted in each country. However,given recent events prospects of engagement are brighter. The question arises, how far is India interested in changing the Pakistani narrative. He pointed out that back channel diplomacy's purpose was for troubleshooting, if the entore negotiating process is pushed to the back channel then the issues loose significance. Both countries need to maintain dialogue, observe essential restrain and hence move towards sustainable cooperation.
Ambassador Arif Ayub, President Institute of Regional Studies (IRS), who was also in attendance said that the book is throughly researched and comprehensively covered different areas.Mrs. Maryam Mastoor, a research analyst at IRS gave a presentation and spoke about how India's polices towards Pakistan can be divided in four main points namely,  policy of denial, policy of conducting a clandestine battle, policy of 'MAD-ness' and the policy of utilizing the 'mantra' of hatred. She emphasised  the importance of a concrete dialogue, stating that failure would hinder economic progress in both countries. Additionally both countries will only increase their nuclear arsenal hence aggregateing the already prevailing insecurities.
H.E. Mr. T.C.A. Raghavan, High Commissioner of India emphasised that both countries should move forward. He stated that the present narrative on either side is very depressing and lamented that real discussions have been replaced with point-scoring. He stated that a tremendous societal change has taken place in both India and Pakistan. The gestures of statesmanship started early on when Prime Minister Nawaz Sharif attended Prime Minister Modi's swearing-in ceremony. Now Prime Minister Modi has reciprocated that gesture when he came to Lahore. He pointed out that you cannot be a prime minister in either country without wanting to move forward on key bilateral issues. Being neighbours is always difficult and being developing countries changes the nature of the tensions. There is a tremendous injection of history and both sides have to grapple with issues which have been there for many years. But each side needs to step away from these positions and contextualise. They need to draw up portfolios not only of differences but of commonalities, because the latter outweigh the former. He stressed that the composite dialogue framework needed to be updated  since it did not include changes in the economies of either country.
Ambassador Khalid Mahmood, Chairman BOG, ISSI concluded the talk and stated that comprehensive dialogue has to move forward in a proper fashion.He added that the real issues should be properly addressed so that strong foundations for a sustainable relationship can be developed. Terrorism unites both countries and should be countered together. A great responsibility lies on the leaders of either country to show true statesmanship and make sure that the disappointing history regarding dialogue was not repeated.
Arhama S/29122015