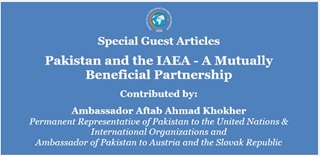 Pakistan embarked on its quest to harness nuclear technology for peaceful uses around the same time the International Atomic Energy Agency (IAEA) was founded in 1957. The IAEA's mandate – to accelerate and enlarge the contribution of atomic energy for peace, health and prosperity throughout the world – held great promise for countries like Pakistan which had newly won their independence and were coming to grips with daunting developmental challenges. It was not surprising, therefore, that Pakistan was among the founding members of the Agency.
Starting out with exploratory baby steps on its nuclear journey in those early days, Pakistan today is a country with the entire range of nuclear fuel cycle, six operational nuclear power plants, and an extensive programme for the application of nuclear technology in agriculture, health, industry, water resource management and the environment. Its highly developed and multifaceted civilian nuclear programme, undergirded by an effective and elaborate institutional and regulatory infrastructure, is contributing to the country's socio-economic progress.
Pakistan's close cooperation with the IAEA has played a crucial role in the making of this success story.