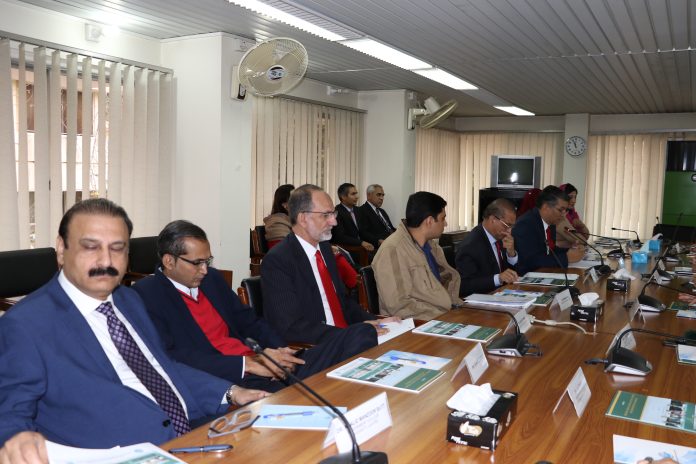 1st Pakistan-China Think-Tank Dialogue held at ISSI
China-Pakistan Study Center (CPSC) at ISSI, hosted a roundtable discussion between Pakistani and Chinese think tanks. Participants included: Professor Du Youkang, Dr. Zahid Anwar, Dr. Samina Sabir, Professor Sun Hongqi, Dr. Khalid Manzoor Butt, Professor Song Zhihui, Mr. Shakeel Ramay, Prof. Ye Hailin, Li Qingyan, Wang Shida, Liu Zongyi and Dr. Fazul-ur-Rehman.
Director General ISSI, Ambassador Aizaz Ahmed Chaudhry opened the discussion with presenting his five-point formula to carry the Sino-Pak think tank dialogue forward: jointly studying the global dynamics impacting the region and BRI; focusing on North-South connectivity; Infrastructure and energy; industrialization; and socio-economic development. Later on, Director CPSC, Dr. Talat Shabir moved the discussion forward emphasizing that we need to implement the recommendations and work done in the previous think-tank dialogue held at the institute this year. While moderating the session, he raised many constructive points such as jointly holding interactive events on regular basis for perception management and executing the projects of BRI successfully.
There was consensus among the participants, both Chinese and Pakistani, now is the time to shift the gear to actual work on the ground from often-heard clichés and rhetoric. Heads, directors and representatives of Pakistani and Chinese think tanks described the nature of work and day-to-day work which is moving the wheels of Sino-Pak relations forward. While shedding light on the seminars, conferences and providing policy input to the respective governments, they emphasized on conducting joint research and providing pragmatic policy input to the governments. It was suggested that much work needs to be done in enhancing the skills of labor force, capacity-building and developing a culture of research and scholarly discussions among the two countries.