Press Release
ACDC's 3rd Anniversary Review Meeting"
October 31, 2022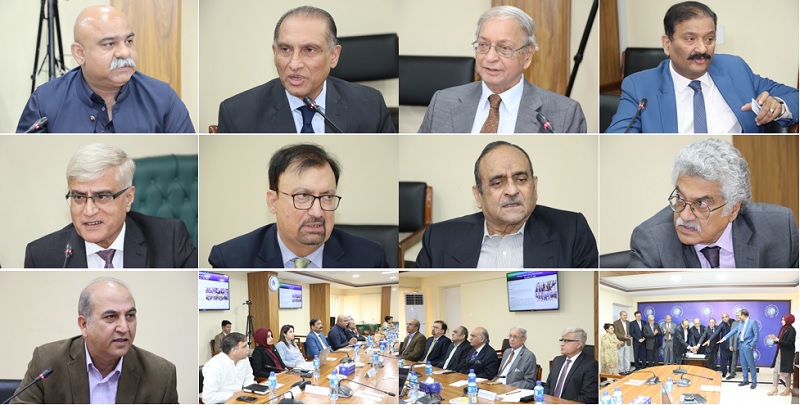 The Arms Control and Disarmament Centre (ACDC) at the Institute of Strategic Studies Islamabad (ISSI) organised its "3rd Anniversary Review Meeting" on October 31, 2022, at 1030 hrs, to review the annual performance of the Centre and provide overall policy directions. The members of the ACDC advisory board attended the meeting including Ambassador Ali Sarwar Naqvi, Dr Pervez Butt, Maj Gen Ausaf Ali HI (M), Maj Gen Naseer Ali Khan HI (M), Dr Adil Sultan, Amb Zamir Akram and Air Cdre Khalid Banuri.
In his welcome remarks Ambassador Aizaz Ahmad Chaudhry, Director General ISSI, said that the ACDC is one the centres of excellence at the ISSI and today it completes three years. Whatever ACDC has done is part of the larger effort of ISSI. He apprised the advisory board of the workings of the ISSI, its centres of excellence, its vision, outreach, its events, its research work and policy inputs.
While giving the Performance Review of ACDC, Malik Qasim Mustafa, Director ACDC, apprised the advisory board about the vision and functions of the centre. He said that the ACDC was established on October 30, 2019, as a part of the ISSI. The vision of ACDC is to contribute focused research and quality policy input through in-depth analysis and dialogue on issues of arms control, disarmament, nuclear safety and security, nuclear deterrence, emerging technologies and challenges to peace and strategic stability. He apprised the advisory board that the centre has so far organised 23 major events including seminars, roundtables and Tuesday Dialogue. He also talked about the ACDC's vision for 2020-2023 with a theme of "Strategic Stability in South Asia." He also gave a review of 2022 activities. The 23 events organised so far ranged on issues like the effects of emerging technologies, cyber security, artificial intelligence for socio-economic development, nuclearisation of the Indian Ocean, Indian naval modernisation and its impact on South Asia, and India's "accidental" missile launch.
ACDC's research activities included issues briefs, confidential briefs, research articles and a special report at ISSI Foundation day on "Comprehensive National Security and Emerging Technologies." He also highlighted the book that ACDC is about to launch Titled "Shifting Doctrines and Emerging Threats: Challenges to Strategic Stability in South Asia."
This was followed by an interactive discussion in which the advisory board member appreciated the work of ACDC and gave suggestions to improve the Centre's research, activities and outreach. They suggested the improvement of outreach to national and international think tanks on issues of arms control and disarmament; publish internationally; invest in more book projects that can highlight Pakistan's point of view; technology expert-social scientist collaboration; look at nuclear issues like lessons from the Ukraine war so that Pakistani experts can gain traction internationally; start conversations on public-private collaboration for emerging technologies; the need to work on issues of space economy that can earn revenue for Pakistan and contribute to socio-economic development.
This was followed by a cake cutting by Ambassador Khalid Mahmood, Chairman BOG ISSI, members of ACDC and the advisory board.