Press Release
Ambassador Platform
Celebrating 70 Years Pakistan-Germany Relations
H.E. Bernhard Schlagheck
October 21, 2021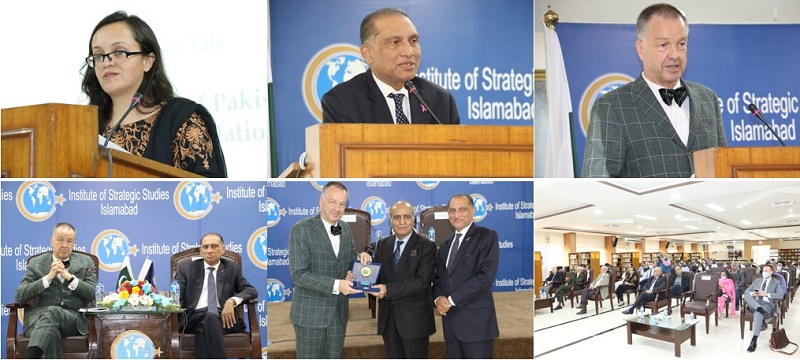 The Centre for Strategic Perspectives (CSP) at the Institute of Strategic Studies Islamabad (ISSI) organised a Public Talk titled, "Celebrating 70 Years of Pakistan-Germany Relations," on October 21, 2021. H.E. Bernhard Schlagheck, Ambassador of Germany to Pakistan was the Guest Speaker for the event.
In her introductory remarks Dr Neelum Nigar, Director, CSP, said that Pakistan and Germany have enjoyed seven decades of close and diverse relations based on mutual respect and cooperation. Germany has also provides development support to Pakistan mainly centred on renewables, climate protection, business, and health care.
While in his welcomeAmbassador Aizaz Ahmad Chaudhry, Director General, ISSI said that Germany is an extremely important country and it's Pakistan's biggest trading partner in Europe. There has been a recent boost in the people-to-people contact between Pakistan and Germany which has helped relations to enhance further. Ambassador Chaudhry called Europe a resilient continent and said people would like to know where it stands with regards to changing geopolitical situation in the Indo-Pacific.
The Guest Speaker Ambassador Schlagheck in his talk said that Germany and Pakistan are engaged in high level bilateral visits which shows the level of trust between the two countries. Both countries are relatively young as both gained independence within two years of each other.
On the recent development in Afghanistan, Ambassador Schlagheck said that Germany is appreciative of Pakistan's assistance in the Doha Process and in securing safe passage for its nationals from Afghanistan. He further said that there are several areas in the political sphere where the two sides can work closely; Afghanistan being one of them. On Pakistan's GSP+ status, Ambassador Schlagheck stated that after 2023 Pakistan's status will be revaluated according to the new conventions and emphasised that Pakistan needs to make efforts to address certain challenges in this regard.
Later, an interactive session was held which was moderated by Ambassador Chaudhry. At the conclusion, Ambassador Khalid Mahmood Chairman BoG, presented ISSI's memento to Ambassador Schlagheck.