Press Release
Centre for Afghanistan, Middle East & Africa (CAMEA) at the Institute of Strategic Studies and Rasanah International Institute for Iranian Studies
May 30, 2022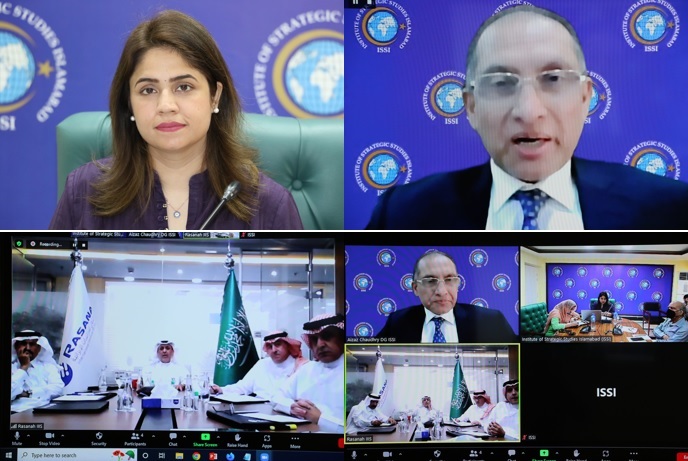 The Centre for Afghanistan, Middle East and Africa (CAMEA) at the Institute of Strategic Studies, Islamabad (ISSI) held its first bilateral dialogue with the Rasanah International Institute for Iranian Studies, Kingdom of Saudi Arabia on May 30, 2022. The participants from ISSI included, Director General ISSI, Ambassador Aizaz Ahmad Chaudhry, Director CAMEA, Ms. Amina Khan and Ambassador Khalid Mahmood, Chairman BOG, ISSI. The participants from Rasanah included Dr. Ahmed Algarni, Vice President Rasanah, Mr.Osama Alsanoussim Advisor to Rasanah, Former Saudi Ambassador to Tehran, Major General Ahmed Almaimouni, Director of Studies and Research Center, Rasanah and Ambassador Awdh Asseri, Former Saudi Ambassador to Pakistan and Advisor to Rasanah.
The bilateral dialogue was moderated by Director CAMEA, Ms. Amina Khan. The subjects of discussion during the bilateral dialogue included the situation in Afghanistan, the response of the international community vis a vis the Afghan crises and other issues pertaining to Afghanistan.
The bilateral dialogue was useful in bringing together viewpoints and perspectives from Saudi Arabia and Pakistan.