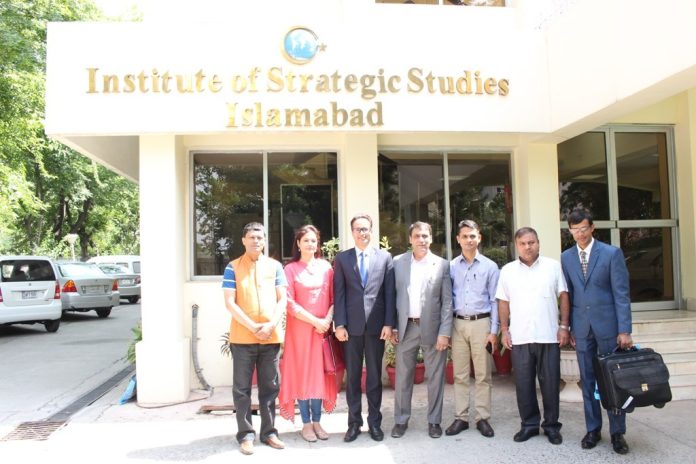 PRESS RELEASE
China Pakistan Economic Corridor Forum 2019
One Day Think-Tank Dialogue
June 20, 2019
"The close relationship between Pakistan and China is a net contributor to the stability of the region and its economic integration. Together, we stand for globalism and inclusivity. We are opposed to regional hegemony and unilateralism. CPEC reflects the common resolve of our two countries to surge ahead with projects of economic and social cooperation, and usher for both countries, an era of shared prosperity."  This was stated by the Foreign Minister of Pakistan, Shah Mahmood Qureshi during his address as Chief Guest, at a One Day Think-Tank Dialogue as part of the CPEC Forum 2019. The event was organized by China-Pakistan Study Centre at the Institute of Strategic Studies Islamabad (ISSI) and the Chinese Academy of Social Sciences (CASS) in collaboration with Pakistan-China Institute (PCI) and Research and Development International (RDI) at the Marriott Hotel, Islamabad today.
Mr. Qureshi stated that China and Pakistan are not just neighbors, they are good friends and 'Iron Brothers'. "This friendship has stood the test of time, and is underpinned by shared values and interests. Here, in Pakistan, this relationship is a defining feature of Pakistan's foreign policy. The political goodwill between our two people is now translating into newer, more impactful ways of cooperation from diplomacy to economy to defense. There is so much that the two countries can gain from each other. The leadership of Pakistan is determined in pursuit of our vision of Naya Pakistan, of which our friendship with China is a pillar of strength." The Foreign Minister said that a people-centered approach is the need of the hour. Moreover, cooperation in areas such as science and technology, agriculture, social sector cooperation, blue economy, people-to-people and cultural linkages, and finding mutually beneficial ways of boosting Pakistan's industrial capacity along with broadening our export base is also of critical importance, he added.
Earlier in his introductory remarks, Mr. Cai Fang, Vice President, CASS, emphasized on international cooperation to further the Belt and Road Initiative (BRI), and pursue policy research in this mega project of intra- and inter-regional connectivity. Rightly dubbed as Iron Brothers, Vice President of CASS said, Pakistan and China are entering a new phase and pursuing the great dream of national prosperity of their people through CPEC, a pilot project of BRI. Pakistan and China are not only good neighbors, but also trusted partners. CPEC is the best reflection of the ancient Silk Road, based on inclusivity and mutual success, he said.
While expressing his views, H.E Yao Jing, Ambassador of the People's Republic of China to Pakistan informed the audience of the near completion of the Early Harvest Projects. He emphasized that CPEC has roots in both countries and has the extension potential in the business sectors. He said that under the new leadership of Prime Minister Imran Khan, China and Pakistan are committed to complete the other projects as well. China can provide a lucrative market for Pakistan's products. Also, CPEC is open for third parties and together, we are looking forward to promoting the development of Pakistan and the region.
In his comments, Senator Mushahid Hussain Sayed, Chairman PCI and Senate Foreign Affairs Committee, observed that BRI is the culmination of three words : corridors, culture and connectivity. He went on to identify the twenty seven projects that are going to be included under CPEC which will help the less developed part of Pakistan. The model given by China is about win-win cooperation, while the US has always been about the use of force, he said. Speaking about opening up CPEC to the regional countries, the Senator stated that CPEC is not about China and Pakistan, but regional connectivity. Commenting on US-China trade war, Mr. Sayed said that we reject any trade war because protectionism is not workable in today's globalized world, but the model of win-win cooperation is.
During her Keynote address, H.E Zhao Bai Ge, Vice Chair of the 12th NPC Foreign Affairs Committee stated that  persistence is key to development. CPEC is for countries who want to progress. It is a model for the whole world, especially the developing countries. Pakistan is keen for development  and China wants to help contribute to this. The private sector and its  businessmen are ideal for success for any country. Pakistan has a big youth mass that has a lot to learn and China, in this regard, can offer a lot in the fields of agriculture, artificial intelligence. The question is to think of the next step which will help lead to further levels of cooperation. The CPEC Forum 2019 will help bring new ideas to the fore, she said.
The discussion was divided into two working sessions titled Five Years of CPEC Cooperation and Shared Economic Development: Unlocking Future Potential respectively.
The main points raised by the speakers during the seminar were that from the perspective of enterprises, a good social security environment and a good business environment are important considerations for business investment and business activities. Concern about misperceptions regarding CPEC were also raised and how the ambiguity surrounding the project needs to be dispelled. Geopolitics cannot be excluded from CPEC. Therefore, a comprehensive security solution planned from the top level is necessary. In order to ensure the success of industrial cooperation,  serious balance of payments gap should be eliminated as soon as possible to gain confidence of the international investors. Moreover, in order for government efficiency to be improved, bureaucracy system reforms are badly needed. All activities under CPEC need to be linked to Gwadar. Gwadar is on the high and bright road of development, but this news is not reaching the people as one would expect it to be. Real benefits of the Special Economic Zones (SEZs) can only be realized once they are interfaced with the overall economic activities of Pakistan as a whole. Perceptions and misperceptions have come to play a decisive role in ensuring the success of CPEC, and eventually, of BRI. However, the mega project needs to be made as much transparent as possible to eradicate any probabilities of misunderstandings and foul assessments. Although CPEC is a component of the 'China Dream', it needs to be viewed in the context of bilateral gains. Sustainable development  needs reciprocal policies and actions.
Earlier, in his opening remarks, Director General ISSI, Ambassador Aizaz Ahmad Chaudhry said that Asia has been witnessing not only unprecedented economic growth in the past few decades, it has also become the centre of the call for connectivity and globalism. In this backdrop, Belt and Road Initiative (BRI)  stands tall as a program that is bringing people and countries closer. CPEC is a central plank of BRI. Hence, there is need to ensure that CPEC succeeds, and to that end, every stakeholder contributes, including think tanks like those gathered today and business community which would meet tomorrow.
Chairman BOG ISSI, Ambassador Khalid Mahmood concluded the Dialogue and stated that today's  event has captured the evolution of China-Pakistan relationship. In the past, it was usually restricted to diplomatic and  government exchanges. Nowadays, people and business exchanges have become more frequent. This has enriched and diversified the relationship between the two nations, he said.
Speakers at the Forum included: Mr. Mustafa Hyder Sayed, Executive Director Pakistan-China Institute; Dr. Fazal-ur-Rehman, Director, Pakistan Institute of China Study, University of Sargodha; Mr. Baozhong Zhang, Chairman of China Overseas Ports Holding Company Limited; Dr. Liaquat Shah, Executive Director CPEC Center of Excellence; Mr. Yaobin Tian, Vice President of CETC International Co Ltd.; Mr. Faheem Sardar, MD TANGENT; Mr. Hailin Ye, Deputy Director General of the National Institute of International Strategy, Mr. Xiangyang Li, Director General of the National Institute of International Strategy, CASS; Mr. Hasaan Khawar, Independent Analyst; Dr. Sumeera Imran, National Defense University (NDU) and Mr. Shakeel Ahmad Ramay, Executive Director Zalmi Foundation.