China-Pakistan Study Centre
PRESS RELEASE
'Gilgit-Baltistan a Gateway to CPEC: Harnessing the Opportunities of Economic and Knowledge Corridor for Sustainable Development'
March 18, 2021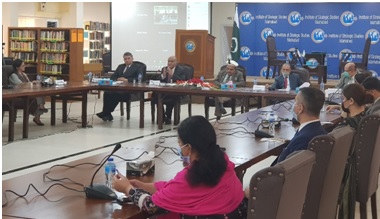 China-Pakistan Study Centre (CPSC) at the Institute of Strategic Studies Islamabad (ISSI) hosted a Seminar titled 'Gilgit-Baltistan a Gateway to CPEC: Harnessing the Opportunities of Economic and Knowledge Corridor for Sustainable Development' in Collaboration with Karakorum International University (KIU), Gilgit today.
Dr. Ataullah Shah, Vice Chancellor Karakorum International University, and Ambassador Aizaz Ahmad Chaudhry, Director General ISSI, signed a MoU to broaden cooperation in research and advocacy between KIU and ISSI prior to the event.
Dr. Talat Shabbir in his opening remarks stated that Gilgit-Baltistan (GB) holds the key for successful implementation of CPEC and stated that both ISSI and KIU will jointly carry out research on China Pakistan Economic Corridor (CPEC) and other areas of mutual interest.
Ambassador Aizaz expressed his delight on the signing of the MoU between ISSI and KIU and wished that this will enable both organizations to build upon their activities in future and address the concerns of the people of GB.
In his remarks, Dr. Ataullah Shah discussed various challenges faced in implementing CPEC and shared the initiatives taken by KIU in preparing the future workforce to capitalize the benefits offered by CPEC. He added that CPEC will transform socio-economic landscape of GB.
Major General (Retd.) Salman Ali, Professor of Paediatrics and former Principal Army Medical College and Fazaia Medical College, shared his experiences of growing up in GB while adding that he has witnessed remarkable progress over the decades. He stressed that the people of GB are fully committed towards prosperity and progress of Pakistan. On CPEC, he emphasized that the opportunities offered by China should be grasped to unleash the potential of GB's youth.
Dr. Saranjam Baig, faculty member KIU shared his thoughts on economic opportunities of CPEC and stressed to address the negative narrative through education and awareness.
Ms. Neelum Nigar, Research Fellow CPSC, opined that economic opportunities under CPEC should be inclusive and sustainable. She emphasises the role of women in the success of CPEC. She pointed out that GB has a high literacy rate which should be capitalized through proper economic incentives.
Concluding the event, Ambassador Khalid Mahmood stated that CPEC promises to provide investment and expertise to Pakistan which will improve socioeconomic well-being across the country.