Press Release
Hosting a 5-member delegation of South Korea's Ministry of National Defence
November 4, 2021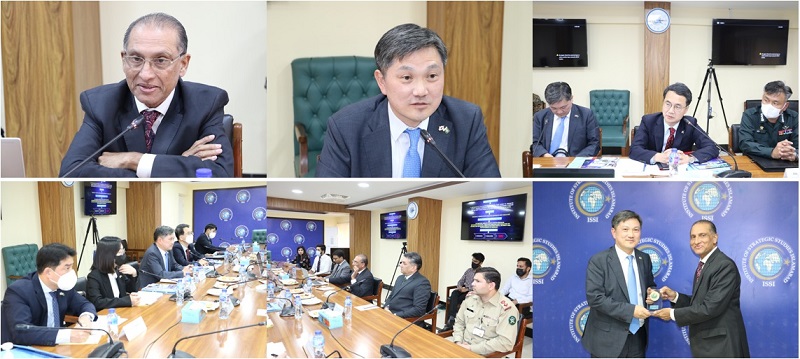 The China-Pakistan Study Centre (CPSC) at the Institute of Strategic Studies Islamabad (ISSI) hosted the 5-member delegation of South Korea's Ministry of National Defence on November 4, 2021. The delegation was headed by Kim Sang Jin, Head of International Policy Division, Ministry of National Defense, Republic of Korea.
DG ISSI, Amb. Aizaz Ahmad Chaudhry welcomed the delegation and briefed them about the work of the institution. He also briefed the delegation about evolving situation in the region. He shared his views on the developing situation in Afghanistan and its broader implications on the region. DG ISSI also briefed the delegation about Pakistan's decade-long contribution to bringing peace and reconciliation in war-torn Afghanistan.
Mr. Kim Sang reciprocated Amb. Chaudhry's welcoming gestures and appreciated Pakistan's assistance in evacuating South Korean citizens from Afghanistan.
An interactive session also followed after former briefings.