PRESS RELEASE
In-House Meeting 
"Participants of the National Institute of Policy and Strategic Studies of Nigeria Study Tour to Pakistan"
July 14, 2021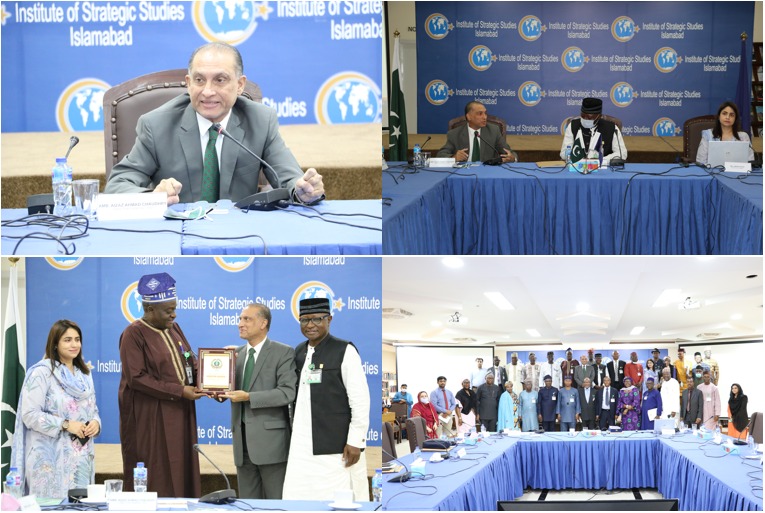 The Centre for Afghanistan, Middle East & Africa (CAMEA) at the Institute of Strategic Studies Islamabad (ISSI) hosted an In-House meeting with participants of the National Institute of Policy and Strategic Studies of Nigeria today. The delegation was headed by Mr. Emmanuel S. Mamman, a senior member of the Institute. The delegation comprised of policymakers, government officials and academics.
Ms. Amina Khan, Director, Centre for Afghanistan, Middle East & Africa (CAMEA) at the Institute of Strategic Studies Islamabad (ISSI) gave a detailed presentation on the workings of the Institute and CAMEA. She informed the participants that how CAMEA is actively pursuing the Pakistan government's Engage Africa Policy to enhance Pakistan Africa Ties. She mentioned the number of events that CAMEA has hosted so far. She also told the audience that CAMEA will be starting an "Engage Africa Series: Outreach to Africa. Under which it will engage diplomats, businessmen, think tanks and other stakeholders from the continent.
Director General Institute of Strategic Studies Islamabad (ISSI) Ambassador Aizaz Ahmad Chaudhry welcomed the delegation to the Institute. He briefed the delegation about the global strategic picture and outlined how the world is changing rapidly. He mentioned three indicators to define the changing world order. First, the shift from unipolarity to multipolarity, Second, the change in global norms. Here he elucidated how Islamophobia and Xenophobia are spreading. The third factor which he mentioned is the major power competition between the US, China and Russia – something which he called the most defining factor of contemporary times. He also talked about non-traditional threats such as climate change, cybercrime, water security, food security, energy security, hybrid warfare and lawfare are increasing day by day and how they need to be addressed.
He also talked about the government of Pakistan's focus on geoeconomics where Africa is a key area for Pakistan. He also highlighted that the number of events had taken place in-line with Pakistan' Engage Africa policy such as the Engage Africa Conference hosted by ISSI, Africa Day at ISSI and Trade and Development Conference held in Nairobi in 2020 organised by Pakistan. He concluded by saying that Nigeria and Pakistan share strong economic ties and it is hoped that this relationship will be enhanced further.
The meeting was followed by a brief question-answer session.