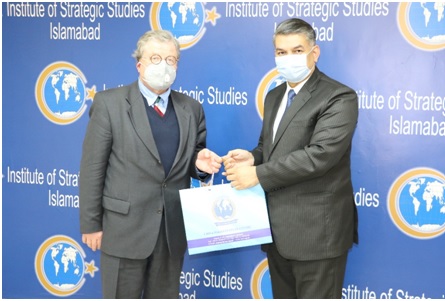 PRESS RELEASE
In-house meeting with 3-member delegation from German Embassy
February 3, 2021
China-Pakistan Study Centre (CPSC) at the Institute of Strategic Studies Islamabad (ISSI) organized an In-house meeting with a 3-member delegation from the German Embassy in Islamabad led by Minister Counsellor Dr. Philipp Deichmann, Deputy Head of Mission today.
The delegation also consisted of Mrs. Shanti Helm, First Secretary for Political Affairs and Mr. Christian Böttcher, First Secretary for Economic Affairs.
Director China-Pakistan Study Centre, Dr. Talat Shabbir, briefed the participants on the working of CPSC and its accomplishments. The two sides also discussed China-Pakistan relations and CPEC. Dr. Deichmann thanked the CPSC team for hosting them and deepening their understanding of China-Pakistan relations.