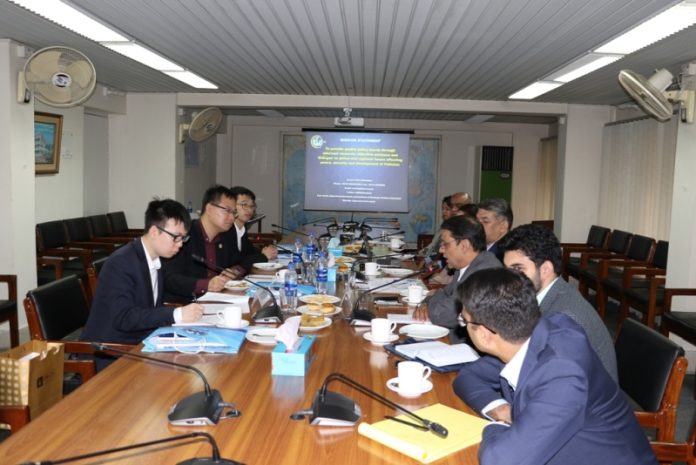 PRESS RELEASE
China-Pakistan Study Center (CPSC)
In-House Meeting
with
3-member Delegation from International Department of Central Committee
of the Communist Party of China (IDCPC)
November 06, 2019
The China-Pakistan Study Center (CPSC) at the Institute of Strategic Studies Islamabad (ISSI) hosted an In-House Meeting on November 06, 2019, with a 3-member delegation from the International Department of the Central Committee of the Communist Party of China (IDCPC). The delegation was headed by Mr. Hu Xiaodong, Deputy Director of Bureau I, IDCPC and included Mr. Chen Yongpei, Attache at the Chinese Embassy; and Mr. Jin Enze Fourth-level Principal Staff Member of Bureau I, IDCPC.
Ms. Uroosa Khan, Associate Editor CPSC, gave a brief overview of ISSI. It was followed by an overview of Pakistan-China relations by Dr. Talat Shabbir, Director CPSC. While speaking about the China-Pakistan Economic Corridor (CPEC), he noted that the project was a manifestation of the will and aspiration of leadership and people of the two countries and had ushered in a new era of connectivity and prosperity in the region, thereby, adding a newer and inclusive dimension to the existing bilateral relationship.
Mr. Najam Rafique, Director Research ISSI, apprised the delegation of the regional situation. He said that tensions have escalated after India's illegal annexation of Indian Occupied Kashmir as part of its Union territories. He also covered the developments in South China Sea, Persian Gulf and Afghanistan. He assured the delegation that the current sit-in by one of the political party would not be a cause for political turmoil.
During his comments, Mr. Xiaodong stated that China was also affected by unconstitutional steps of Delhi on August 5 and both China and Pakistan will continue to support each other's sovereignty and territorial integrity. He also discussed the importance of enhancing people to people contacts.
The remarks were followed by an interactive discussion which was moderated by Director CPSC. Among other topics, the situation in Afghanistan, particularly the recent elections and future trajectory of CPEC were also discussed.