Press Release
In-House
Pakistan-Russia Relations: Present & Future
July 13, 2021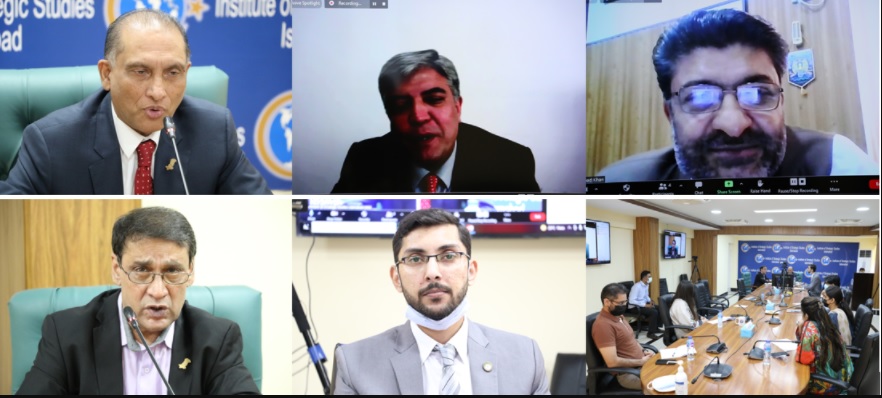 Centre for Strategic Perspectives (CSP) at the Institute of Strategic Studies Islamabad (ISSI) organized an in-house meeting with Pakistan's Ambassador to Russia, Mr. Shafqat Ali Khan on Pakistan-Russia Relations: Present & Future on July 13, 2021. Dr. Shabbir Ahmad, Director, Area Study Centre for Russia, China and Central Asia joined the meeting as a discussant.
Welcoming the guests, Director CSP, Mr. Najam Rafique said that Pakistan and Russia have experienced a dramatic transformation in their bilateral relations in the recent years. Having moved from being on opposite ends of geopolitical and geostrategic rivalries during the Cold War era, the two nations are now engaged in developing their relations in various sectors including energy, economic cooperation and military interaction. Pakistan Stream Gas Pipeline has now become a flagship project in their bilateral relations.
Mr. Taimur Fahad Khan, the expert working on Pakistan's relations with Russia at CSP-ISSI, gave a comprehensive presentation on the past and present of Pakistan-Russia relations. He highlighted the areas of bilateral cooperation including Pakistan Steel Mills, energy projects, collaboration in agriculture and defence. He also touched upon the exchange of high profile visits and naval and military cooperation such as Druhzba and Aman exercises.
DG ISSI, Ambassador Aizaz Ahmad Chaudhry in his welcome remarks said that the purpose of this interaction is two-folds: One, to educate the civil society about the dynamics of Pakistan-Russia relations, and two, to help policy-makers by providing a pragmatic perspective on the subject. He raised questions as to why Pakistan-Russia relations have not picked up the pace as expected, and, if Russia's relations with India and Pakistan can be considered as a zero-sum interaction.
Ambassador Shafqat gave a cross-sectional view of Pakistan-Russia relations. He said that Russia is a big power having an influential clout in terms of economy and geopolitics in the areas like Central Asia, Middle East, Gulf countries, and Asia overall. In multilateral forums as well, Russia holds immense power and this is one of the reason for Pakistan to partner with Moscow on these platforms. He particularly cited the United Nations (UN) and Shanghai Cooperation Organization (SCO). Touching up foreign policy of Moscow, he described it as "ruthlessly pragmatic" based on their national interests.
Debunking the myths on Pakistan-Russia relations, he clarified that there has always been a school of thought in Moscow that wanted to have some sort of semblance in its relations with Islamabad. Providing an incisive insight into the past engagements, he emphasized the transformative shift in the bilateral relations which, in his perspective, occurred due to continued interaction over the past two decades. On the question of the Indian factor in Pakistan-Russia relation, he maintained that it is time that Islamabad must increase its relevance to Moscow while understanding that India is a big economy and one of the largest importer of Russian military spare parts as 70% of its military equipment is of Russian origin.
Director Area Study Centre at Peshawar University, Prof. Dr. Shabbir Ahmad said that the bilateral relations must be complimented with people to people contacts. He suggested an increase in academic exchanges for nurturing the deep cultural ties between Pakistan and Russia.