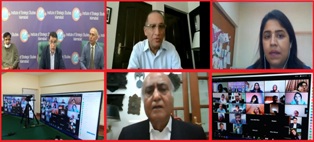 Press Release
Inauguration
"Centre for Middle East & Africa"
April 30, 2020
The Institute of Strategic Studies Islamabad (ISSI) held the soft launch of its Centre for Middle East & Africa (CMEA) today. Additional Secretary Africa, Ministry of Foreign Affairs Pakistan, Mr. Ali Javed, and Director General Middle East, Ministry of Foreign Affairs Pakistan, Syed Zahid Raza were also present on the occasion.
CMEA aims to promote and provide quality research, analysis, policy input and dialogue on issues related to the Middle East and Africa. The Centre's functions include observing latest developments, contributing in-depth research and analysis, organizing and promoting dialogue and debate on political, security, economic, and social aspects of the Middle East and Africa countries, with the focus on relevance for Pakistan.
Ms. Amina Khan, Director CMEA, in her introductory remarks underscored the importance of studying different regions and countries in order to better understand their respective challenges and responsibilities. She said that in the case of Pakistan, it is important that research becomes focused on regions that are significant for Pakistan's foreign policy, and also on those that are ignored despite repeated slogans of their high potential, in particular, the Middle East and Africa region.
Mr. Ali Javed said that there is a lot of opportunity in the African region that needs to be tapped into. All conferences and seminars should translate into concrete establishment of ties between the two sides. He outlined the shortcomings of the Nairobi trade fair and pointed to countries such as Tunis and Morocco which have shown interest in establishing commercial links with Pakistan. He also spoke of the importance of celebrating 'Pakistan-Africa Friendship Day', the need for greater facilitation of information between different government departments and expressed his hope that CMEA would deliver in this regard.
Mr. Zahid Raza said that the Middle East region is of immense importance to Pakistan especially in terms of the huge Pakistani Diaspora which resides there. He outlined the complex interplay within the regional countries of the Middle East which require Pakistan to tread very carefully to safeguard its interests. In this regard, he hoped that CMEA could provide quality input and constructive engagements which would help shape Pakistan's foreign policy in this region – at an individual country level as well as Middle East as an entity.
Earlier, in his welcome remarks, the Director General ISSI, Ambassador Aizaz Ahmad Chaudhry stated that the Government of Pakistan is working on establishing ties with the African countries as a top priority. Foreign Minister Shah Mahmood Qureshi is very keen in this respect. This in itself symbolizes the importance the African region has for Pakistan. He hoped that CMEA would deliver on this front and work closely with the government in this regard.
In his concluding remarks, Chairman BOG, ISSI, Ambassador Khalid Mahmood highlighted how over the years Pakistan has helped African countries especially during their period of decolonization. The African continent is one which is increasing in importance. He said that CMEA should develop greater linkage with African community in Pakistan and keep them abreast of all developments pertaining to Pak-African relations.