PRESS RELEASE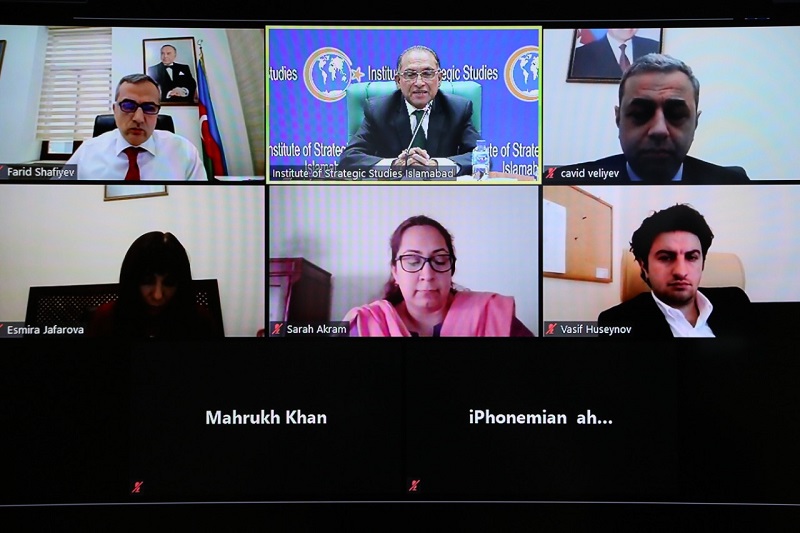 Center for Strategic Perspectives (CSP) at the Institute of Strategic Studies Islamabad (ISSI) held an introductory virtual meeting with Dr. Farid Shafiyev, Chairman, Center of Analysis of International Relations (CAIR), Baku, Azerbaijan on April 6, 2021.  Members of CAIR who also joined the meeting included: Dr. Esmira Jafarova, Deputy Chairman; Dr. Javid Valiyev, Head of Department; Fuad Chiragov, Head of Department; and Dr. Vasif Huseynov, senior advisor.
DG ISSI, Ambassador Aizaz Ahmad Chaudhry briefed the members of CAIR on the work being done by ISSI and its five centres of excellence. Introducing CAIR, Chairman CAIR, Dr. Farid Shafiyev said that it is a very young Centre affiliated with the government and covers issues of national, regional and global concern.
Briefing CAIR on the global and regional issues, DG ISSI spoke about the new emerging world order in the post-Cold War era and intensifying major power competition, particularly between US and China. He especially talked about Washington's "Contain China" policy, QUAD, and India's growing interests in it which, in his view, is making regional peace precarious. He briefed CAIR on Pakistan's relations with its neighbors including India and the growing Hindutva mindset, peace in Afghanistan, relations with Iran and China and the Muslim World including Turkey. Chairman CAIR spoke about Azerbaijan's presidency of the Non-Alignment Movement and concerns over the distribution of COVID-19 vaccine. He thanked Pakistan for its principled stance on Nagorno-Karabakh and its illegal occupation by Armenia. DG ISSI thanked Azerbaijan for its support to Pakistan on the issue of Kashmir.
Both DG ISSI and Chairman CAIR agreed that Islamabad-Baku ties are thriving and sustainable. The meeting ended with a suggestion by Dr. Farid Shafiyev to arrange a trilateral think tank meeting between Pakistan, Azerbaijan, and Turkey.