PRESS RELEASE
ISSI launches Special Report on "Human Security Through Development"
October 3, 2023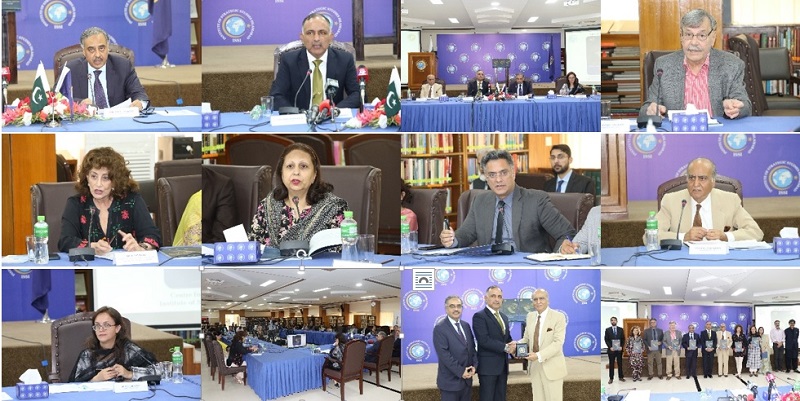 The Centre for Strategic Perspectives (CSP) at the Institute of Strategic Studies Islamabad (ISSI) launched a Special Report on "Human Security through Development" today.
The Chief Guest on the occasion was Chairman, National Disaster Management Authority (NDMA), Lieutenant General Inam Haider Malik. Other discussants included: Ambassador Shafqat Kakakhel, Chairperson BoG, SDPI; Ms. Aisha Khan, Executive Director, Civil Society Coalition for Climate Change; Dr. Aliya Khan, Former Dean Faculty of Social Sciences, QAU, and Mr. Faheem Sardar, Senior Policy Specialist, NSD.
In his address, Chairman NDMA Lieutenant General Malik emphasized the evolving geopolitical landscape worldwide, where human security challenges manifest uniquely in various countries. He underscored the importance of aligning human security goals with Pakistan's national capabilities to transform them into tangible realities. The Chairman stressed the necessity of making policy adjustments to advance development goals and objectives, stressing that every element of national power must contribute to the nation's development efforts. He emphasized the critical role of nurturing a skilled human resource base to effectively address challenges to national progress.
Furthermore, the NDMA Chairman highlighted that Pakistan is transitioning from a reactive stance to a proactive approach in the context of disaster preparedness, disaster management and post-disaster rehabilitation and reconstruction. In this context, he enumerated the wide range of policy measures and concrete actions initiated by NDMA including in collaboration with national and international partners. In conclusion, he emphasized the importance of formulating National Development Goals tailored to Pakistan's specific needs, underlining that while the Sustainable Development Goals (SDGs) are valuable, each country should also focus on its unique developmental priorities as well.
In his welcome remarks, Director-General ISSI Ambassador Sohail Mahmood emphasized the significance of the Special Report as a valuable addition to the ongoing discourse on human security in Pakistan. He noted that while traditional security concerns are vital, they often fall short in addressing the increasingly accentuating non-traditional security threats and challenges. Ambassador Sohail Mahmood pointed out that Pakistan's National Security Policy (NSP) has rightly prioritized human security as part of comprehensive national security framework, recognizing the numerous security challenges that have impeded the country's progress towards sustainable development. Among other things, he stressed the importance of nurturing the young generation, describing them as a valuable asset for the nation and highlighting the need to enhance their skill development for increased human security. Furthermore, he emphasized that climate change stands as a significant human security issue for Pakistan and must be addressed with the utmost seriousness. Ambassador Sohail Mahmood concluded by thanking the contributors — noting that the Special Report underscores the necessity for a comprehensive approach to tackle the whole range of human security challenges effectively in a holistic and integrated manner and should serve as a road-map for all the relevant stakeholders.
In her remarks, Director Neelum Nigar highlighted the significance of the CSP report for policymakers, practitioners, and academics, emphasizing its focus on the critical aspects of human security and development within Pakistan. She underscored the diverse backgrounds of the contributors, which enriched the report with a wealth of insights and perspectives on the subject of human security. Dr. Nigar emphasized that the report thoroughly covers challenges and opportunities in Pakistan's human security and development domain. Its primary objective is to encourage constructive dialogue and collaboration to address these critical issues.
In the panel discussion session, Ambassador Kakakhel who is also one of the contributors to the report, emphasized the significance of human security for Pakistan. Ambassador Kakakhel recalled the pioneering role played by Pakistan's eminent economist Dr. Mehbubul Haq in accentuating the concept of human security in the global discourse. Ambassador Kakakhel noted that in the past decade, the global focus has been on attaining the Sustainable Development Goals (SDGs), which serve as a blueprint for sustainable human development. Ambassador Kakakhel also highlighted the crucial role of the National Security Policy (NSP) in addressing human security concerns in Pakistan, particularly given its emphasis on national cohesion, which is an integral component of national security. He also commended the prominent part accorded to 'human security' in the seminal national document such as the NSP.
Ms. Aisha Khan emphasized the unpredictability of today's world, where new human security challenges emerge continuously. She commended the report for its comprehensive coverage, particularly its in-depth exploration of the climate change challenges confronting Pakistan. Ms. Khan underscored the need for a shift in focus within the country to address both internal and external factors affecting human security, necessitating a more robust institutionalized response. She emphasized that the status quo approach is insufficient, and investment is required to effectively address the evolving landscape of human security challenges.
Dr. Aliya Khan, in her remarks on the report, highlighted the diminishing emphasis on economic development in the discourse on human security in Pakistan. She stressed that in approaching this subject, it is essential to recognize the inter-sectionality of human security, human development and economic society and to prepare accordingly. The report, as noted by Dr. Khan, provokes a discussion on human security, emphasizing the need for tailored approaches to tackle these challenges effectively. Moreover, Dr. Khan pointed out that Pakistan's burgeoning debt crisis represents a significant obstacle to human security development in the country, underscoring the urgent need for increased resource generation.
Mr. Faheem Sardar, in his comments, highlighted that Pakistan's National Security Policy (NSP) places human security at its core. He noted that Pakistan has been severely impacted by terrorism, resulting in approximately 0.5 trillion dollars in damages since 2002, which has hindered its efforts to address human security challenges effectively. Mr. Faheem Sardar emphasized the interconnection between human security and peace, underscoring the vital role that peace plays in ensuring the well-being and security of the population.
In his vote of thanks, Chairman BoG Ambassador Khalid Mahmood commended the CSP report as a laudable endeavor in highlighting the issue of human security. He noted that the global concept of security has evolved, shifting its focus towards non-traditional security issues. Ambassador Khalid Mahmood specifically highlighted climate change as one of the most substantial threats to human security in Pakistan and emphasized the urgency of addressing it.
The launch was attended by a cross-section of people, including academics, practitioners, former and current Pakistani diplomats and officials, experts from think-tanks, students, and members of the diplomatic corps based in Islamabad.