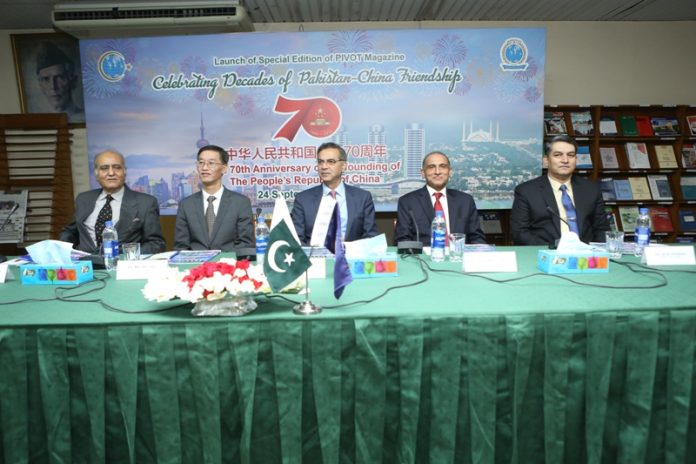 Press Release
Launch of Special Edition of PIVOT Magazine
September 24, 2019
China-Pakistan Study Centre (CPSC) at the Institute of Strategic Studies Islamabad (ISSI) organised "Launch of Special Edition of PIVOT Magazine" on September 24, 2019. Ambassador Moazzam Ahmad Khan, Special Secretary, Ministry of Foreign Affairs, graced the launch as Chief Guest. Ambassador Yao Jing, Ambassador of the People's Republic of China also attend the ceremony.
To celebrate decades of time-tested Pakistan-China friendship on the eve of 70 years of the founding of People's Republic of China, a special edition of PIVOT magazine is being published in October 2019.
Ambassador Aizaz Ahmad Chaudhry, Director General ISSI, commending China on its 70th national day, stated that China's achievements are lessons for all nations to emulate. He further said that broad-based strategic relationship with China is a cornerstone of Pakistan's foreign policy.
Delivering his remarks, Ambassador Yao Jing stated that, "China has a trust-based historic relationship with Pakistan." He said, China values its relationship with Pakistan and sees it as a model inter-state relationship. He commended CPSC for publishing a special edition to mark the 70th founding day of China.
Addressing the ceremony, Ambassador Moazzam said, "Pakistan takes pride in its relationship with China." He highlighted that during Pakistan's tough times, China has always provided steadfast support and it can be witnessed again in recent Kashmir crisis. He lauded CPSC for producing a quality magazine and looked forward to reading future editions.
In his vote of thanks, Ambassador Khalid Mahmood, Chairman ISSI, noted that China only describes its relationship with Pakistan as: "All-Weather Strategic Cooperative Partnership." He highlighted that with the China-Pakistan Economic Corridor (CPEC), the relationship has reached new heights.
Earlier in his introductory remarks, Dr. Talat Shabbir, Director CPSC, stated that as China celebrates 70 years of its founding, Pakistan-China relationship has deepened and grown stronger. From a strategic relationship, now it is moving to deep economic partnership and people-to-people exchanges. He noted that PIVOT magazine projects Pakistan-China relations and developments in diverse spheres such as policy, economy, culture, tourism and people-to-people exchanges.