Press Release
Media Workshop
on
"Media Reporting on National Security Issues"
June 7-8, 2022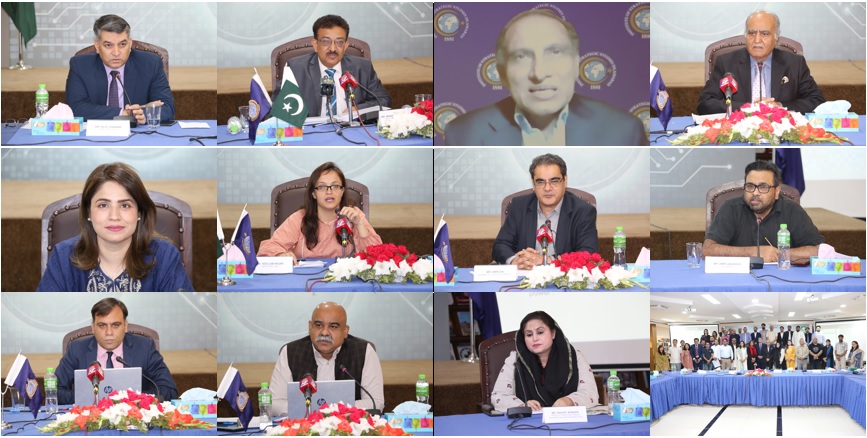 The Institute of Strategic Studies, Islamabad (ISSI) and Press Information Department (PID) jointly organized a two-day Media Workshop on June 7-8, 2022. The theme of the event was "Media Reporting on National Security Issues." China-Pakistan Study Centre (CPSC) at the ISSI hosted the event, while Dr. Talat Shabbir, Director CPSC, moderated the workshop. Participants included beat reporters and senior journalists. Guests speakers were directors of centers of excellence at the Institute, Mr Amir Ziasenior analyst, and Mr Amir Jehangir, communications expert.
In the inaugural session, Dr. Talat Shabbir, Director CPSC, in his welcome remarks, said that the concept of national security has evolved from military centric to comprehensive security which involves economic security, human security and military security. It is our national responsibility to protect and evolve our national security policy. While Mr. Arshad Munir, Joint Secretary Ministry of Information and Broadcasting, in his opening remarks, appreciated the efforts of ISSI and PID for organisation of this event. He emphases on the concept of national security and role of media to advocate it at national and international level.
The speakers of the day 1 included Dr. Talat Shabbir, Director CPSC, Ms Amina Khan, Director Centre for Afghanistan Middle East and Africa (CAMEA) and Ms. Neelum Nigar, Director Centre for Strategic Perspective (CSP).
The spearkers of the day 2 included Dr. Arshad Ali, Director India Study Centre (ISC), Malik Qasim Mustafa, Director arms Control and Disarmament Centre (ACDC), Ambassador Khalid Mahmood, Chairman BOG, ISSI, and Ambassador Aizaz Ahmad Chaudhry, DG ISSI.
Dr. Talat Shabbir focused on "Regional and Global Imperatives of Pakistan China relations." He said that the post WWII Eurocentric world order is rapidly eroding – New centres of power emerging across the world. The hard earned virtue of globalisation and multilateralism is being challenged by protectionism, isolationism and unilateralism.
Ms. Amina Khan, focused on the theme of "Evolving Situation in Afghanistan." She said, Afghanistan is on the brink of collapse. The national resistance front has not been able to gain popular support and pose serious threat to the Taliban regime. The real threat is emanating from within Afghanistan such as rise of transnational terrorist organisations, staggering economic situation and humanitarian crises. The real test of Taliban has just begun. Taliban can deliver on basic issues if necessary support is given by international community.
Dr. Neelum Nigar, focusing on "Reporting on Economic Issues" said in the state of economic journalism, the basic discourse of economy is missing in the mainstream media of Pakistan due to political polarisation. It is important to properly cover the economic matters on daily bases and give a positive image to domestic and international investors.
Amir Zia, journalist and political analyst, focused on media ethics and responsibilities. He said that it is important to establish a state narrative and bring clarity in it with a mutual consensus with all stake holders. He said that the disinformation could be tackled by introducing effective disinformation laws that applicable on every one and media houses should be made transparent in term of its financial matters.
Amir Jahangir, CEO Mishal, said that historically media had been used for the internal political interests by different stake holders rather than to promote national interest. Media has always been used for influencing actions of citizens and leadership. There is a need to upgrade media ethics.
Dr. Arshad Ali, focused on India's internal politics, Hindu nationalism, Indian foreign policy and Pakistan India relationship. He added, since Modi takeover in 2014, there is rise of dangerous nationalism. Punitive and harsh punishments are given to non-Hindus. India is using law fare. Law fare refers to the use of laws and penal codes to impose the will of the government on its subordinates through the means of violence. India is very effectively using law fare against minorities particularly non-Muslims.
Malik Qasim Mustafa, lauded the Comprehensive national security policy of Pakistan (2022-2026), it's features, challenges, addressing major traditional security challenges, Pakistan's response and at the end mentioned recommendations. He said, on external front one of the major challenges is India's traditional rivalry and hostile intentions towards Pakistan. It has been playing a dominating role in the formulation of Pakistan's National security policy.
Focusing on Dynamics of Pakistan's Foreign Policy, Ambassador Khalid Mehmood, Chairman BOG, ISSI, said that the aspirations and fundamentals of our foreign policy were clearly outlined by the founder of the country, Quaid-e-Azam Muhammad Ali Jinnah and since then our foreign policy has largely been formulated in that premises. He highlighted the challenges facing Pakistan while formulating its foreign policy. Focusing on Pakistan's relations with its neighbours and great powers, he stated that the US-India nexus is a greater source of instability in the region. He kept his emphasis on a balance foreign policy especially when it comes to US-China and Saudi-Iran relations.
Ambassador Aizaz Ahmad Chaudhry DG ISSI, stated the essence of Pakistan national security policy is to improve the wellbeing of people of Pakistan. Socio-economic wellbeing of Pakistani people should be our key objective and our security and foreign policy should revolve around it. Focusing on Pakistan's relations with neighbouring countries, he said, India's hegemonic design has created instability in the South Asian region.
At the end certificates were distributed among the participants of the workshop.