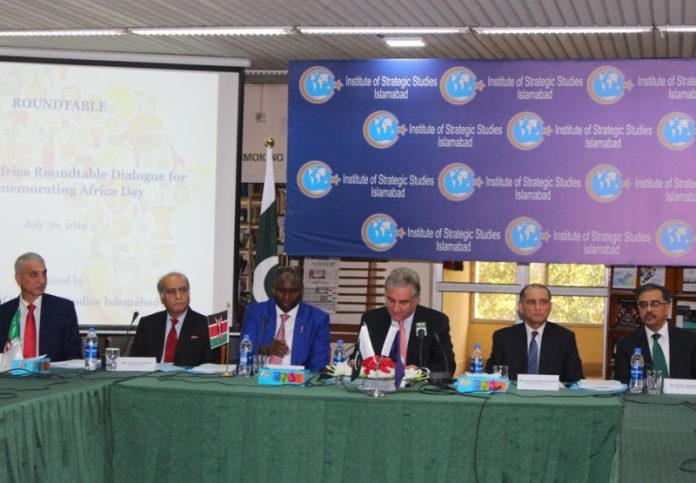 Press Release
Pakistan-Africa Roundtable Dialogue for Commemorating Africa Day
July 30, 2019
"Africa is not just a huge expanse of land, but future of hope for mankind. We value our relations with Africa and cherish the support that we extend to each other at multilateral forums. Pakistan-Africa relations thrive on political, diplomatic support and, now, we need to enhance our trade volume and explore the possibilities of joint economic ventures." This was stated by Foreign Minister of Pakistan, Shah Mahmood Qureshi at Pakistan-Africa Roundtable Dialogue for Commemorating Africa Day organized by the Institute of Strategic Studies Islamabad (ISSI) on July 30, 2019.
Participants at the roundtable included: High Commissioner Republic of Kenya, Prof. Julius Kibet Bitok; Ambassador of People's Democratic Republic of Algeria, Mr. Lakhal Benkali; Ambassador of Republic of Sudan, Mr. Tageldin El Hadi El Tahir Taha; Ambassador of Kingdom of Morocco, Mr. Muhammad Karmoune; Ambassador of Federal Republic of Nigeria, Maj. Gen. Adebayo A. Olaniyi; Ambassador of Arab Republic of Egypt, Mr. Ahmed Mohammed Fadel Yacoub; CdA  of Federal Republic of Somalia, Mr. Ali Sheikh Abdullah; CdA Republic of Mauritius, Mr. Marvin Nadrajen Chedumberum; CdA State of Libya, Mr. Nizar A. M. Nabiyah; CdA Republic of South Africa, Mr. Cristo Jansen Van Noordwyk. Ambassador of Tunisia regretted due to the on-going official mourning for the passing of Tunisian President.
Foreign Secretary of Pakistan, Mr. Sohail Mahmood was also present at the occasion.
Earlier, in his welcome remarks, Director General ISSI, Ambassador Aizaz Ahmed Chaudhry extended a warm welcome to all the distinguished guests. He said that Pakistan-Africa relations are very deep-rooted, and grounded in cultural, religious and social dimensions. However, we should put more emphasis on economic aspects as well.
The participants raised many important points and discussed the scope of Pakistan-Africa relations from the prism of wide-ranging themes. Africa, it was reiterated, is ready to commit its deep partnership with Pakistan and is looking forward to teaming up together for taking relations to the next level. The most promising joint ventures, it was suggested, could be made in the fields of textile, pharmaceuticals, high-tech and agriculture. The need to enhance people-to-people contacts and increase the number of scholarships to the African citizens was also highlighted. Proposals were also put forward for enhancing Pakistan-African relations by using new economic diplomacy; contributing to peacekeeping operation through air forces; and joining hands in renewable energy products and services.
Representatives from Pakistani think-tank and business community informed the esteemed audience that a great deal of work has already been going on for strengthening the relations. Emphasis was laid on enhancing cooperation in maritime field, Small and Medium Enterprises (SME), real estate sector, mining, human resource management and women empowerment.
Commending the vibrant discussions and welcoming the suggestions, Foreign Secretary Sohail Mahmood said that Pakistan is already working on some of the ideas presented here, and on others, work will start soon. He suggested a proactive think tank-to-think tank cooperation in order to evolve the relations in a positive and meaningful way.
In his vote of thanks, Dean of African Countries' Ambassadors in Pakistan, High Commissioner Republic of Kenya, Prof. Julius Kibet Bitok appreciated the initiative of commemorating Africa Day  and convening a roundtable dialogue. To maximize Pakistan-Africa cooperation at multilateral forums, he suggested frequent exchange of high-level visits, and through institutional support, to develop a common economic policy roadmap.
Representatives from all the African countries present at the roundtable also set up exhibition stalls displaying various products from their countries.