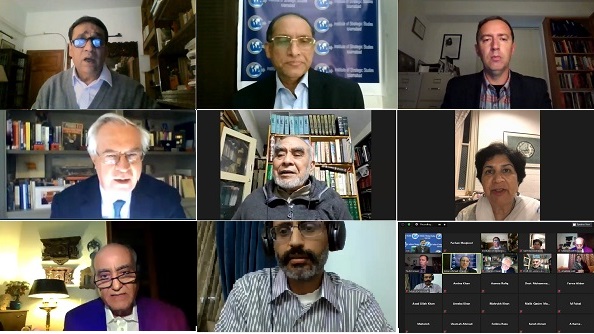 Center for Strategic Perspectives (CSP) at the Institute of Strategic Studies Islamabad (ISSI) organized a panel discussion on "Islamophobia and How to Deal with It?" The panel comprised of esteemed academics and scholars including: Dr. Todd Green, Associate Professor of Religion, Luther College, Iowa; Dr. Charles Powell, Director of the Elcano Royal Institute, Spain; Prof. Dr. Anis Ahmad, VC Riphah University, Islamabad; Prof. Dr. Samina Yasmin, Director, Center for Muslim States and Societies, The University of Western Australia; and Mr. Ahmad Naeem Salik, Research Fellow, CSP-ISSI.
The interactive discussion began with introductory remarks by Director CSP and Editor at ISSI, Mr. Najam Rafique. Defining "Islamophobia" as fear of Muslims and Islam to pathological degree, Mr. Rafique described it bias of Western a society that reflects in everything associated with Islam and its followers. French-led Islamophobia and Hindutva ideology, he opined, are two sides of the same coin. Elaborating upon the background of the panel discussion, he mentioned Prime Minister Imran Khan's strategy for countering Macron's remarks and the Muslim world to unite on this particular issue.
Meanwhile, Director General ISSI, Amb. Aizaz Ahmad Chaudhry joined the discussion and posed some important questions to the worthy panelists. While referring to famous American Political Scientist Fukuyama's book, "Identity", he was particularly keen to know the reasons behind Islamophobia.
Responding to this question, Dr. Todd Green said that the reasons behind tensions between western and Muslim populations are various. He highlighted the political dimension of this unfortunate phenomenon which lies at the core of far-right political sections in the European and American societies. Calling attention to remarks by French President Macron, Mr. Najam asked Mr. Powell whether it is right for political leaders and opinion makers to endorse religious discrimination in the name of secularism and freedom of speech, and shouldn't there be a red line for such expressions? Calling Macron's remarks unfortunate, Dr. Powell stated that it is utmost necessary for a political leader to strike a delicate balance between freedom of expression and incitement to hatred especially if it is a multicultural society like France.
Commenting on how productive would be an inter-faith dialogue, Prof. Anis Ahmad stressed upon the need for ethical revival worldwide. Islamophobia is not a Muslim problem, Prof. emphasized, but a human problem which media, both in eastern and western societies, have failed to address properly and effectively. In his opinion, only societies can come together to put an end to this menace.
Describing the situation of Islamophobia in Australia and right responses from the Muslim world, Dr. Samina Yasmin, was of the view that aftermath of 9/11 accelerated this phenomenon. She suggested that saner and pacifist sections in both Muslim and western societies must come forward for building an enabling environment of inter-faith harmony, understanding and knowledge.
Sharing his response to perceptions about the youth on Islamophobia, Mr. Ahmad Naeem Salik, proposed to conduct meaningful and comprehensive discussions to reap the fruits of diversity in human societies all over the world.
Describing the role of the Organization of Islamic Cooperation (OIC) in promoting peaceful narratives of Islam, Chairman BoG ISSI, Amb. Khalid Mahmood said that OIC has played its role in this regard but its efforts are far from satisfactory.
All the panelist agreed that it is not just Islamophobia but all forms of extremists ideologies and phobias are a threat to democracies worldwide. They particularly referred to Modi's India which is becoming a hot spot of Muslim prosecutions. They were also in agreement that it is not Islam but Muslims that the xenophobes are afraid of. They all pointed towards a solution based on education and dialogue for creating mutual understanding.