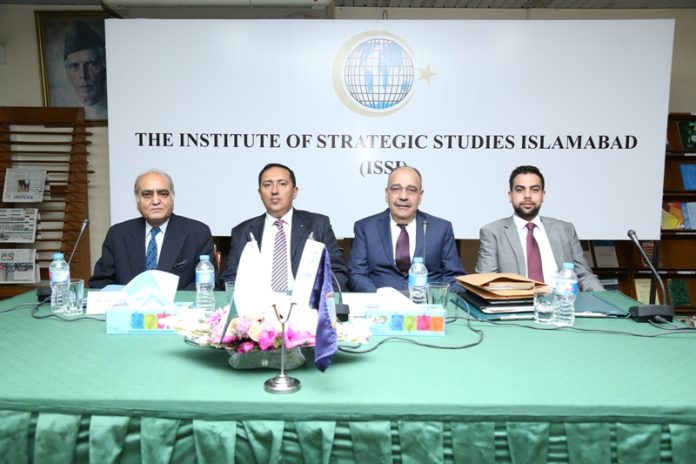 Press Release
Public Talk
on
Formation of National Unity Government and Future of Peace in Palestine
November 28, 2017
The bond between Pakistan and Palestine is very strong. Pakistan has always been supporting Palestine at all levels, be it regional or international platforms. This was stated by H.E. Dr. Mazen Shaymia, Assistant Minister of Palestine for Asia, Africa and Australia at a Public Talk organised by the Institute of Strategic Studies Islamabad (ISSI) today on the "Formation of National Unity Government and Future of Peace in Palestine". Dr. Mazen thanked Pakistan and its people for their firm support in endorsing and advancing the cause of Palestine. He said that November 2 marks the beginning of the brutal military occupation of the people of Palestine and the destruction of their homeland which finds no parallel in history. Yet, despite all the sufferings, the people of Palestine are very resilient and no power on the earth can snatch away their identity and homeland. Dr. Mazen said that the solution to the problem of Palestine lies in exercising the right to self-determination, which is the fundamental right of the people of Palestine. Talking about the peace negotiation process, Dr. Mazen stated that Palestine and its leadership is open to negotiation and peace settlement which is in compliance with international humanitarian laws. Though we have been agreeing with the international treaties and agreements, alongside the treaties specific to the Palestine issue such as the Oslo Accord, Israel has been violating all the laws and treaties, and has imposed an unjust siege upon the citizen of Palestine for almost ten years and, even worse, it is changing the demographic composition of the region. He concluded his speech on an optimistic note that the solution of the Palestine lies in national unity and the support from international community. It is the responsibility of the international community to stand with the people of Palestine.
H.E. Dr. Mazen Shaymia was accompanied by H.E. Mr. Walid Abu Ali, Ambassador of the State of Palestine in Islamabad, Mr. Ibrahim R.M. Altarri and Mr. Khalil H.A. Abughalyoun.
Earlier, welcoming the Palestinian delegation, Chairman ISSI, Ambassador Khalid Mahmood highlighted Pakistan's unwavering support to the Palestinian cause at multilateral forums. He said that Pakistan has been assigning the same level of priority to the Palestine issue as it does to its own matters and considers it as significant as the Kashmir issue. Stressing that the issue of Palestine is multi-dimensional, he said that it is a question of foreign occupation, and the solution to the Israel-Palestine conflict lies in implementation of the UN Resolutions 224 and 338, which call for withdrawal of the Israeli troops and return of the people of Palestine to their homeland, restoring their fundamental human rights, and fulfilling their humanitarian needs. He pointed out that any solution compromising the status of the holy city of Jerusalem will not be acceptable. He concluded on the note that Pakistan will always provide unflinching and unwavering support to the Palestinian cause.