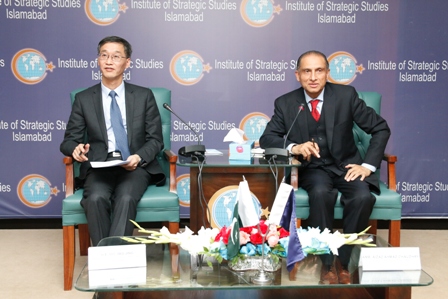 PRESS RELEASE
Public Talk
on
Pakistan-China Relations and Next Phase of CPEC
February 20, 2020
"Pakistan is our closest friend and most valuable partner." This was stated by H.E. Mr. Yao Jing, Ambassador of People's Republic of China to Pakistan during his address at a Public Talk on 'Pakistan-China Relations and Next Phase of CPEC.' The event was organized by China-Pakistan Study Centre at the Institute of Strategic Studies Islamabad (ISSI) today under its Ambassadors' Platform Series. Policy makers, diplomats, academics and students were present on the occasion.
Ambassador Yao Jing stated that right now China is in a very difficult situation, but we deeply appreciate the support extended by the government and people of Pakistan since the outbreak of the deadly virus. He also said that the Chinese government is committed to looking after Pakistani students in Wuhan.
The Chinese Ambassador went on to talk about the strength of Pakistan-China relations and also discussed the latest developments under CPEC. He said that CPEC is the latest stage of our friendship which is proving to be beneficial for the people of Pakistan. He added that 16 projects have now been completed, while a number of new projects have been added in line with the vision of Prime Minister Imran Khan. In the next phase, there will be greater role of the private sector. Mr. Yao Jing stated that China's development relies upon peace and progress in its neighborhood therefore, it is committed towards Pakistan development. He mentioned that China's progress is not well received by some countries and they are always looking for opportunities to defame it.
Earlier, In his welcome remarks, Ambassador Aizaz Ahmad Chaudhry, Director General ISSI, expressed solidarity with people of China and urged the international community to come together in support of China. He said that the two countries have always stood together and there has never been any divergence in this relationship. He added that some countries are envious of CPEC and China's rise.
Earlier, Director China-Pakistan Study Centre, Dr. Talat Shabbir asserted that the resilient Chinese nation will manage to deal with the present challenge and it will come out stronger and continue playing its positive role in regional and global affairs. Sharing his views on CPEC, he said that it is a mega initiative for both countries. It has helped Pakistan transform while attaining sustainable growth.
In his concluding remarks, Ambassador Khalid Mahmood, Chairman BOG ISSI, stated that relationship between the countries has strengthened over the years, while CPEC has added new dimensions to it. With the 70th anniversary of Pakistan-China friendship approaching, we can look back with great satisfaction, he said.