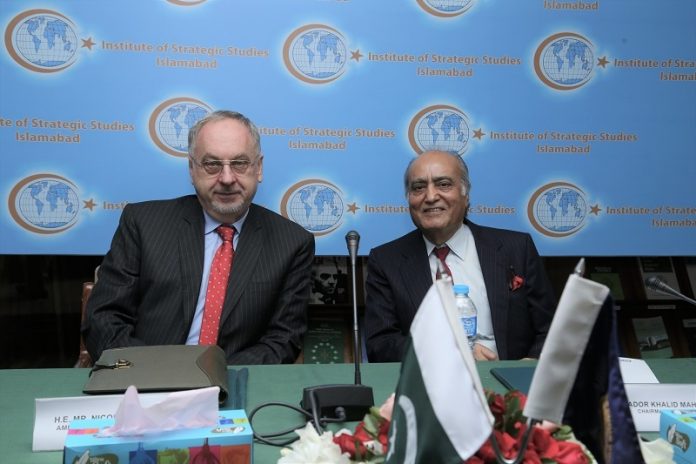 Press Release
Public Talk
on
"Pakistan-Romania Relations"
January 23, 2018
"Pakistan is a very important country not only for the region but for the world at large … Pakistan has huge potential in economics and the China Pakistan Economic Corridor is one of the most important elements of attraction for the business community from the world over. This was stated by H.E. Mr. Nicolaie Goia, Ambassador of Romania at a Public Talk on Pakistan-Romania Relations held at the Institute of Strategic Studies Islamabad (ISSI), under its Ambassadors Platform series 2018.
Ambassador Goia went on to explain how his country stopped the decline of its economy and went on to becoming the fastest growing economy in Europe with a steady parliamentary democracy. Romania is now a medium to high income exporting economy – it is number 41 in the world when it comes to the Gross Domestic Product (GDP). Romania is also important for Pakistan because being a member of the European Union, Romania was a staunch supporter of Pakistan when it came to giving the latter the GSP Plus status. Due to this instrument ,Pakistan's exports to the EU have increased by more than 30 per cent.
Regarding Pakistan Romania relations, the Ambassador said that after diplomatic relations were established in 1964, the bonds have gone a long way for bringing closer both the nations – an example being Romania's support for Pakistan in its membership of the Security Council in 2011. He stated that the economic dimension of relationship between Pakistan and Romania is far less satisfactory compared to the political dimension, and needs to be worked upon. In the cultural field, both countries share good relations Currently, close to 200 Pakistani students are pursuing their studies in Romania and are being trained as engineers, doctors, IT experts, and businessmen. They have very good prospects of jobs once their studies are completed, he added.
Short videos showing the rich history and culture of Romania were also shown on the occasion.
Earlier, Ambassador Khalid Mahmood, Chairman ISSI, in his welcome remarks said that Romania is no stranger to Pakistan as it had assisted Pakistan in setting up an oil refinery in Karachi, as well as two cement plants. Even though at the end of the communist era the relationship between the two countries had slowed down, things have started looking up again and many initiatives and proposals are at hand for the two governments. He hoped that the relationship will get new impetus, particularly in improving and expanding economic relations between the two countries following the GSP Plus status for Pakistan by the European Union. Another sector with great prospects, the Ambassador highlighted, was defence cooperation which, he said, was showing great promise.
Later, Ambassador Mahmood, in his concluding remarks thanked Ambassador Goia and stated that new avenues for cooperation are being explored and hopefully with greater interaction and involvement of the private sector, not only will the trade volume increase between Pakistan and Romania, but collaboration will be extended to other sectors as well.