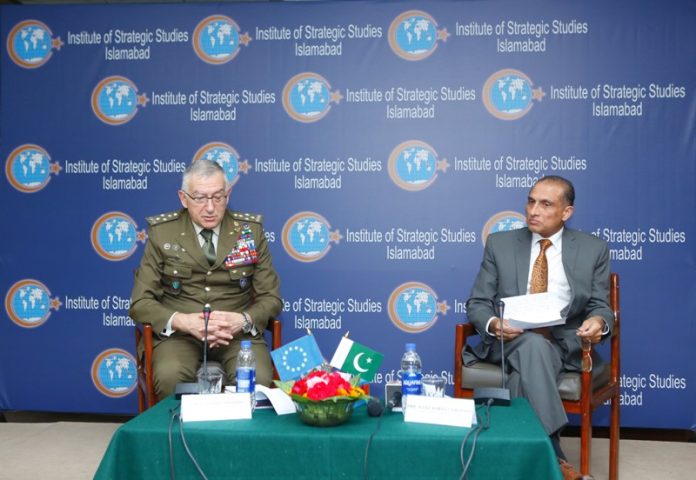 Press Release
Public Talk
on
Role of the European Union in the Global Scenario
November 7, 2019
"Pakistan is playing an important role in maintaining peace and security, and [it is also] affected by many threats. Its role is important in intra-Afghan dialogue. EU, here, can engage itself as a facilitator. We are ready to cooperate on the issue of terrorism from which Pakistan suffers." This was stated by Gen. Claudio Graziano, Chairman of the European Union Military Committee, who was the distinguished speaker at the public talk on "The Role of the European Union in the Global Scenario." The event was a part of Distinguished Lecture Series organized by the Institute of Strategic Studies Islamabad (ISSI) on November 7, 2019.
Gen. Graziano gave a detailed overview of the challenges of contemporary times and the EU's evolving role in the military and strategic context. He described the European Global Strategy and said that, in today's age, the EU is planning to engage on the global peace and security issues with international community. He briefed about the strategic priorities of the EU, its increasing responsibilities, and the ever-increasing need to engage with its partners on the principle of strategic autonomy. He said, we can finance our military projects, being in consultation with our valued partners, and decide when and where to intervene. Informing the audience about his visit, he said, yesterday he met with Pakistani military leadership and discussed the issues of common concerns with them. Looking forward to Pakistan's cooperation on the issues of security in the region, Afghanistan in particular, he appreciated Pakistan's role in ensuring peace in the nuclear tense environment.
Ms. Androulla Kaminara, Ambassador of the European Union to Pakistan thanked the ISSI for hosting the talk. She said that the EU is not about trade and commerce only, but security and strategy as well. Security cannot be achieved without development. On behalf of the European delegation, she welcomed any interaction with the Pakistani community on common security and foreign policy issues.
Earlier, while welcoming the distinguished speaker, Chairman ISSI, Ambassador Khalid Mahmood briefly dwelled upon the history of EU and the dream of a united Europe after the scourge of the two global wars. Contextualizing Pakistan-EU relations in the contemporary times, he touched upon the forces of xenophobia, populism, rising tide of anti-regionalism and dwindling economic cooperation. He said that these are the challenges that are clouding the prospects of European dream, as well as global peace and security.
The talk was followed by a short round of question and answer session regarding Kashmir issue, Afghan peace process and global role of EU. The event was attended by a number of distinguished guests, scholars, diplomats and media personnel.