Press Release
Quaid-e-Azam Day & Christmas Celebration
December 24, 2021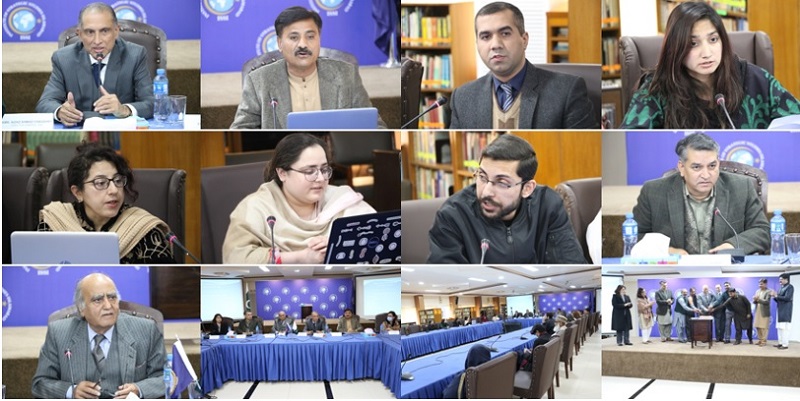 The India Study Centre at Institute of Strategic Studies, Islamabad organised an in-house meeting on December 24, 2021 to pay tribute to the father of the nation Quaid-e-Azam Muhammad Ali Jinnah on his 145th birthday and to celebrate Christmas. In his opening remarks, Director India Study Centre, Dr. Saif Malik quoted Gandhi who had said that " Jinnah is incorruptible and brave." He said that Quaid -e-Azam is a role model for the nation but particularly for its leaders.
Mr. Muhammad Ali Baig from India Study Centre presented a review of a renowned book "A Leadership Odyssey: Muslim Separatism and the Achievements of the Separate State of Pakistan." He said that if it was not for Quaid -e- Azam Muhammad Ali Jinnah, the dream of Pakistan would have never seen light of day.
Representing China Pakistan Study Centre, Ms. Ume Farwa said that Quaid e Azam Muhammad Ali Jinnah was not only a man but was an institution of truth, honesty and sincerity. She also made a reference to growing religious intolerance in the country and how it went against the vision of our great Quaid.
Ms. Ghazala Jalil, Research Fellow from Arms Control and Disarmament Centre, ISSI specifically focused on Quaid's vision on defence. She said that in line with Jinnah's vision, today, Pakistan has a formidable defence system which includes the armed forces, a conventional deterrent and a nuclear deterrent that ensures our safety against a hostile foe.
From Centre for Afghanistan, Middle East and Africa, Ms. Areeba Khan highlighted Quaid-e-Azam's vision regarding the status of minorities in the Pakistan. She said that Pakistani nation owes its independence and freedom to Quaid's vision and his hard work.
Mr. Taimur Khan from Centre for Strategic Perspectives said that it was due to Quaid's political vision and foresight that Muslims of the sub-continent found liberty from the clutches of imperialism. Today, Pakistan is going through a hard time but if its leadership and nation understands Quaid's vision and roadmap for Pakistan, the country will eventually find its way to progress and prosperity.
Towards the end, the Director General ISSI Ambassador Aizaz Ahmad Chaudhary highlighted the fact that it is important for nations to not lose sight of the legacy of their leaders and their values. Chairman Board of Governors, Ambassador Khalid Mahmood said that Muhammad Ali Jinnah was not a Quaid but Quaid-e-Azam. Today, the plight of Muslims in India is the testament of the fact that Quaid-e-Azam was a man of great vision. Members of the institute belonging to the Christian faith were also congratulated by all other colleagues as the event also coincided with Christmas.