Press Release
Round-Table Discussion with Poland's
Undersecretary of State Wojciech Gerwel
June 05, 2023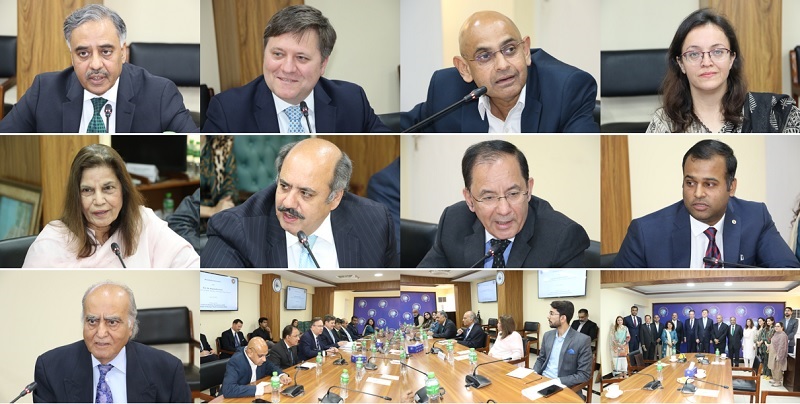 The Centre for Strategic Perspectives (CSP) at the Institute of Strategic Studies Islamabad (ISSI) organized a Round-Table Discussion with H.E. Mr. Wojciech Gerwel, Undersecretary of State, Ministry of Foreign Affairs, Poland.
The discussion was chaired by Ambassador Sohail Mahmood, Director General ISSI. Participants included: Ambassador Fauzia Nasreen, Pakistan's Former Ambassador to Poland; Ambassador Nadeem Riyaz, President IRS; Former Ambassador Shah Jamal; Mr Muhammad Saleem, Additional Secretary Europe, MOFA; Dr Zafar Nawaz Jaspal, Director, School of Politics and International Relations, QAU; Mr. Hassan Abbas, Policy Expert, National Security Division; Ambassador Khalid Mahmood, Chairman, BoG, ISSI; and Senior Research Faculty members.
Dr. Neelum Nigar, Director CSP, and CSP research team were also present.
In his welcome remarks, DG ISSI Ambassador Sohail Mahmood said that warm and cordial relations existed between Pakistan and Poland. As they celebrated the 60th anniversary of diplomatic relations, both countries were keen on further deepening their multifaceted relationship in all dimensions.
DG ISSI Ambassador Sohail Mahmood also thanked the Polish authorities for their assistance in safe evacuation of Pakistani nationals from Ukraine in the wake of the Ukraine conflict. Furthermore, he highlighted Poland's significance as an important partner, being an EU and NATO member, and Pakistan-Poland collaboration in multilateral fora and on key regional issues. He also apprised of ISSI's outreach to counterpart think-tanks for closer collaboration.
Undersecretary Gerwel underscored the importance Poland accorded to its 'friendly and solid' relationship with Pakistan. He stated in the changing and uncertain times, Poland was reaching out to its partners, and as such "Pakistan is a valuable partner." He highlighted the vast potential in economic relations between the two countries in a number of key sectors including trade, investment and energy.
Undersecretary Gerwel also apprised of the evolving regional situation including in Ukraine as well as Poland's perspective on the range of issues of peace and security confronting Europe.
His talk was followed by a dynamic interactive session.
Ambassador Khalid Mahmood, Chairman BoG ISSI made the concluding remarks.