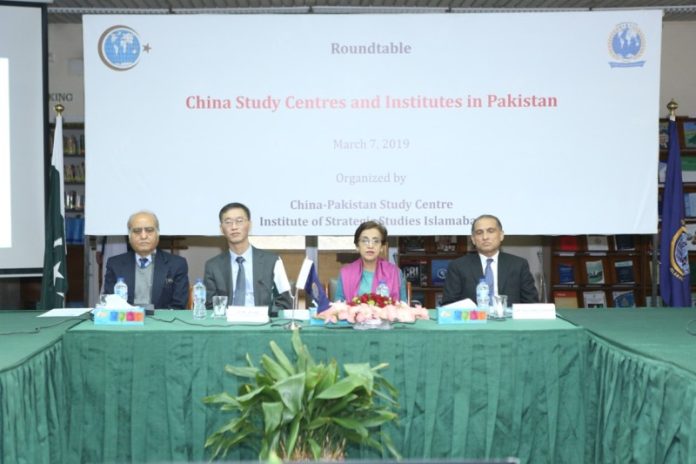 Press Release
Roundtable Discussion
China Study Centres and Institutes in Pakistan
Organized by
China-Pakistan Study Centre (CPSC)
Institute of Strategic Studies Islamabad
March 07, 2019
"Pakistan-China relationship is a two-way street. China is Pakistan's truly tested best friend and likewise, Pakistan is China's truly tested best friend. The Pak-China strategic partnership is a pillar and of peace and stability in the region and beyond." This was stated by Honourable Ms. Tehmina Janjua, Foreign Secretary of Pakistan during her address as Chief Guest at a Roundtable Discussion at the Institute of Strategic Studies Islamabad today organized by its China-Pakistan Study Centre (CPSC).
Ms. Janjua said that China is now the strong voice of the developing countries, and its Belt and Road Initiative (BRI) provides a vehicle for change and is indeed a win-win model. She said that with the progress of the China-Pakistan Economic Corridor (CPEC), China has now become the largest investor and partner of Pakistan. While its Special Economic Zones (SEZs) under CPEC are all-encompassing and will benefits all parts of Pakistan, work needs to be enhanced in people-to-people exchanges and this is where the centers and institutions working on China can help.
Keynote speaker, H.E. Mr. Yao Jing. Ambassador, Peoples Republic of China said that the coming together of China focused centers was an important occasion. Sino-Pakistan relations figure very high in all of China's relations and China attaches special importance to its relationship with Pakistan, especially in the changing, complex world order.  China studies have now become more extensive in Pakistani academic efforts and the input, advice and proposals received from this roundtable will aid the foreign policy direction of both countries, he said.
The agenda for the Roundtable was to discuss the areas of research each center is currently focusing on and to outline avenues of future collaboration. Participants included representatives from China Studies Centers and Institutes from across the Pakistan including: Dr Fazal-ur-Rahman of Pakistan Institute of China Studies, University of Sargodha; Dr Ghulam Akbar Mahesar of Far East & Southeast Asia Study Centre University of Sindh, Jamshoro; Dr. Kaleem Ullah Mandokhail, Focal Person, Chinese Study Centre, University of Balochistan; Dr. Khalid Manzoor Butt, China Study Centre, GCU, Lahore; Dr. Omair Haroon, CPMI, Suleman Dawood School of Business, LUMS; Dr. Samina Sabir, CPEC Centre, University of Azad Jammu & Kashmir; Dr. Saranjam Baig, Centre for Research on CPEC, Karakoarm International University; Dr Talat Shabbir, Director CPSC, ISSI; Dr. Zahid Anwar, China Study Centre, University of Peshawar; Mr. Muhammad Arshad Qaim Khani, China Economic Forum; Syed Tanvir Abbas Jafri, COMSATS Chinese Study Centre, Islamabad; Dr Imran S. Khalid, SDPI China Study Centre; Mr. Zamir Awan of Chinese study Centre, NUST and Ms. Saadia Waqar un Nisa, the Director CPEC at the Ministry of Foreign Affairs.
The discussion focused on channels for further cooperation, and the speakers agreed that the younger generation tends to focus on western notions attached to China- a mind-set that needs to be changed. There needs to be a focus on building human resource capacity which can later be passed on to the younger generation. Also, there should be joint skill building programmes. Healthy and constructive debate needs to be encouraged and the culture of both countries need to be leveraged and promoted. Research also needs to be conducted on how CPEC affects the region as a whole, especially the neighbouring countries such as Afghanistan. Avenues for further cooperation include joint papers and publications, collaboration on research, exchange research programmes for researchers, aid each other in fieldwork, host joint events, talks, seminars, conferences and hold an annual national China Centers conferences for exchange of ideas and to promote further understanding of ideas.
Earlier, in his welcome remarks, Director General, Ambassador Aizaz Ahmad Chaudhry spoke about how Pakistan and China have maintained and strengthened their relationship ever since they were established in 1949. Regardless of the changes on the international scene and change of governments in both countries, this relationship has only strengthened with time. He said that this is the first time that most of China centers that exist in various parts of the country have come together from all provinces, as well as Kashmir and Gilgit-Baltistan. With the advent of the new government in Pakistan new priority areas have been added to the cooperation agenda of the two countries. These include factors such as economic cooperation and agriculture. New constructive ideas are hence, the need of the hour.