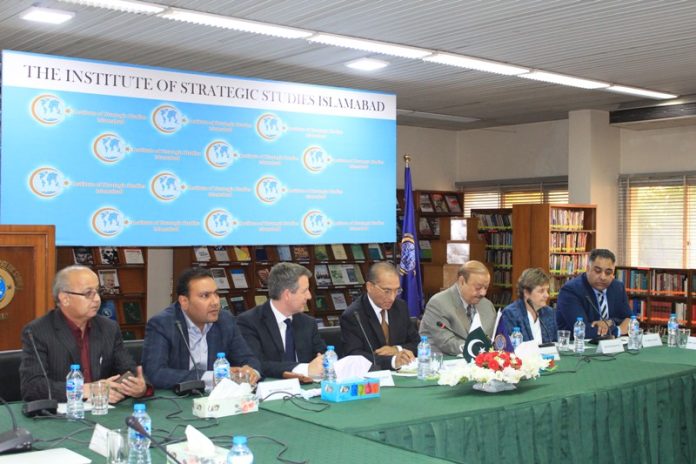 Press Release
Roundtable Discussion
with
Delegation from All Party Parliamentary Group on Kashmir (APPKG), London
19 September, 2018
"For a place which should be recognized for its beauty, Kashmir has suffered decades of abuses. The proximity of so many armed forces on such a militarized border is alarming". This was stated by MP Christopher Leslie, Chairman, All Party Parliamentary Kashmir Group (APPKG) during a Roundtable Discussion with a delegation from APPKG, London at the Institute of Strategic Studies Islamabad today.
The idea to discuss the situation in Kashmir and to strengthen the APPKG's efforts to bring a parliamentary motion to put pressure on India prevailed as the dominant theme at the discussion. Members of the APPKG delegation included, Member of European Parliament, MP Anthea McIntyre, MP Imran Hussain, MP Faisal Rashid and Chairman of Jammu and Kashmir Self- Determination Movement, Europe, Mr. Raja Najabat Hussain.
Former Prime Minister of Azad Jammu and Kashmir, Barrister Sultan Mahmood Chaudhry was also present. Other participants included ambassadors, representatives from different think tanks and academics.
In his welcome remarks, Director General ISSI, Ambassador Aizaz Ahmad Chaudhry highlighted how the recent report by the Commission for Human Rights has rightly pointed out the atrocities being carried out by Indian Armed forces in Indian Occupied Kashmir. The report, he said, comprehensively documents how Kashmiri rights are being violated. He highlighted that India was quick to reject the report.
The main points raised during the discussion were that after decades of heart wrenching and hand wringing, a carefully thought out solution was imperative. A lot of atrocities have already been committed and these need to be stopped immediately. Without a context of an improving India-Pakistan relation, a solution on Kashmir cannot be reached. Prime Minister Imran Khan's victory speech in which he invited India for talks has given new hope. As of now, despite various efforts by Pakistan to restart the dialogue process, no response has been received from India. The latter needs to be reminded that the resolutions passed on Kashmir are UN sanctioned and need to be implemented. On its part, the UN also needs to pursue this issue with haste. The international community also needs to reignite their connection with the Kashmiri people.
It was also highlighted that despite the fact that the sensitivities in the region are well-documented and well-known, this issue has not received enough attention by the international community. The age old issue of self-determination needs to be addressed on urgent basis. This is in the interest of the international community because peace and stability in Kashmir will have a knock-off effect for the peace and stability of the entire region. It was agreed that the members of the British Parliament have a principled obligation to facilitate talks in a conducive environment. Efforts are already being made in this respect – a Human Rights enquiry was started in December 2017 and their report is expected to be completed by October 2018. However, more needs to be done. From a European Union point of view, even though a vast network for the Kashmir cause exists, it is not very active. This needs to be rectified. Sideways, it is essential to find a modality for Kashmiri participation. The world needs to move away from this stalemate scenario and find a sustainable solution.