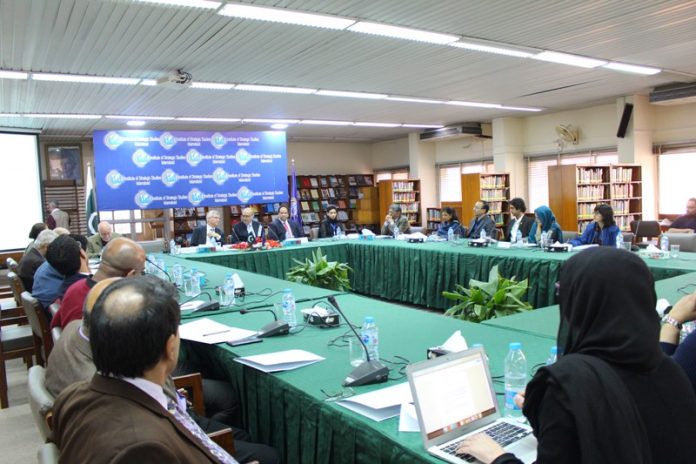 Press Release
Roundtable Discussion
Mr. Kjell Magne Bondevik,
former Norwegian Prime Minister and Founder and Executive Chair of the Oslo Centre
November 26, 2018
"Peace democracy and human rights are closely linked to each other. Peace can only be achieved and lost if you have respect for human rights and respect of democracy, otherwise sooner or later a violent uprising may occur." This was stated by Mr. Kjell Magne Bondevik, former Norwegian Prime Minister and Founder and Executive Chair of the Oslo Center for Peace, Democracy and Human Rights during a Roundtable Discussion at the Institute of Strategic Studies Islamabad today.
The agenda for the session was based on the Jammu and Kashmir dispute and human rights violations in Indian Occupied Kashmir (IOK). Participants included ambassadors, journalists and policy makers.
Mr. Bondevik talked about how the Oslo center which he had founded was working exclusively on the democracy project mainly in democracies that are relatively new and have no democratic traditions. Human rights has roots that transcend culture and religions so it is not specifically a western tradition. He went to say that the universal declaration of human rights says all human beings are born free and equal in dignity and human rights. In fact, the latter is a consequence of human dignity and any abuses of human rights are in fact encroachments on human dignity. He admitted that there have been occasions where the western world has represented a double standard that is not promoting peace. He also expressed concern over the current international system and lamented on the worsening security system.
Mr. Bondevik stated that though the Kashmir conflict has been there for seventy years, not enough focus has been attributed to it. He was in favor of increasing pressure by the international community to start a dialogue between India and Pakistan. "People in Kashmir deserve peace, they have suffered too much and the UN needs to be more active in this regard. A peaceful solution must be a three-party dialogue where the leaders from Pakistan, India and Kashmir must all be present", he said.
Earlier, in his welcome remarks, Chairman BOG, ISSI, Ambassador (Retd) Khalid Mahmood highlighted the cordial ties between Pakistan and Norway. He highlighted the sizeable Pakistani diaspora that exists in Norway. On the topic of Kashmir, he questioned whether a peaceful settlement to the dispute was possible and said that an early political solution to alleviate the sufferings of the Kashmiri people was very much needed.
Concluding the session, Ambassador (Retd) Khalid Mahmood said that pressure needs to be mounted on India to come to the negotiating table so that a sustainable solution can be reached over Kashmir.