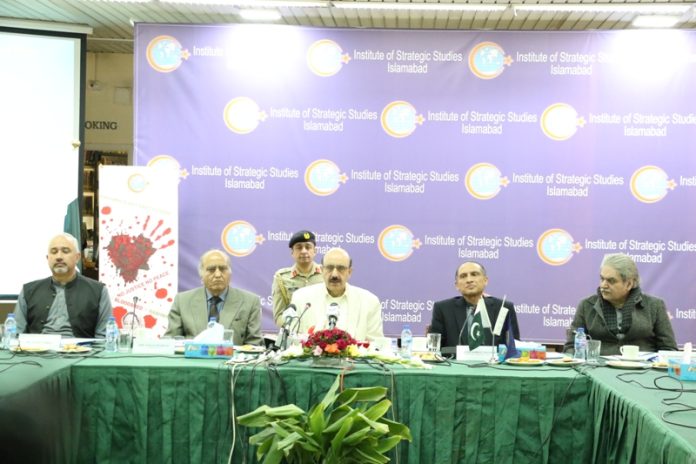 Press Release
Roundtable : "Self Determination Day: Voices From Kashmir"
January 10, 2020
"India is imposing war on us and we should be ready for it." This was stated by Sardar Masood Khan, President Azad Jammu and Kashmir. He was speaking as the Chief Guest at the roundtable organised by the Institute of Strategic Studies Islamabad in collaboration with the Ministry of Kashmir Affairs & Gilgit-Baltistan on "Self-Determination Day: Voices From Kashmir" to commemorate UN Self-Determination Day.
President Masood Khan drew a comparison between the events of October 27, 1947 and August 5, 2019 as in both the cases, India had attacked and occupied the state of Jammu and Kashmir by force. On August 5, 2019, not only India once again occupied the part of State of Jammu and Kashmir that is under its control, but by bifurcating Kashmir into two union territories, India has also tried to steal the identity of Kashmir. There was a mixed response from the international community as number of countries like China, Malaysia and Turkey spoke in favour of Kashmiris and there were debates in Parliaments of number of important countries and among the civil society groups which gave strength to the Pakistani narrative. However, unfortunately the role of UN was not as per expectations. He commended the show of support and solidarity that was shown by not only Pakistani and people of Azad Jammu and Kashmir, but also by the Diaspora community abroad in favour of the people of Indian occupied Jammu and Kashmir. He said that due to Modi's own steps, the issue of Kashmir has once again been internationalised. He also praised the courage of the Kashmiri leaders for enduring all sorts of difficulties in their struggle for the right to self-determination.
Other speakers at the roundtable included: Ambassador Faisal Tirmizi, Coordinator, Kashmir Cell, Ministry of Foreign Affairs; Mr. Altaf Hussain Wani, Chairman, Kashmir Institute of International Relations; Mr Khalid Rehman, Director General Institute of Policy Studies; Syed Abdullah Gillani, Convener All Parties Hurriyat Conference; Syed Nazir Gillani, Jammu and Kashmir Council for Human Rights; former Ambassador Arif Kamal; and Mr Tanvir Sultan from the business community . They were unanimous in their deliberations that by denying Kashmiris their right to self-determination, India has violated not only its commitment made to the international community, but also to the Kashmiri people. They all also agreed that the UN resolutions on Kashmir are not obsolete and are still very much relevant, and that the Kashmir struggle for the right to self-determination will be taken to its logical end and will not be deterred by Indian atrocities.
Earlier, in his welcome remarks the Director General (ISSI) Ambassador Aizaz Ahmad Chaudhary said that there are three aspects of the Kashmir dispute namely, legal, ideological and human rights. Legally, the events of August 5, 2019 are against not only the UN resolutions but also the Simla agreement. The human rights situation in Indian occupied Kashmir is dismal as the entire leadership of Kashmir is under detention and pellet guns are being used against the Kashmiri youth.
In his concluding remarks, Chairman BOG ISSI, Ambassador Khalid Mahmood said that the right of self-determination is an inalienable right which is present in all the important charters and declarations in the world. It is a universal right of all the people who are under illegal foreign occupation. Ambassador Khalid highlighted that PM Modi's anti-Muslim and anti-minority policies has worsened the situation and effects of that can be seen across India in the form of protests. He concluded his remarks by stating that it is for the first time that the world has started to see the developments in Indian Occupied Kashmir for what they really are, a violation of the right of self-determination of the people of Kashmir.
The roundtable was attended by a large number of officials, academics, former civil and military bureaucrats, think tanks, members of the civil society, students and media.