Press Release
Roundtable with H.E. Danila Ganich on
"75th anniversary of Pakistan-Russia Diplomatic Relations"
May 03, 2023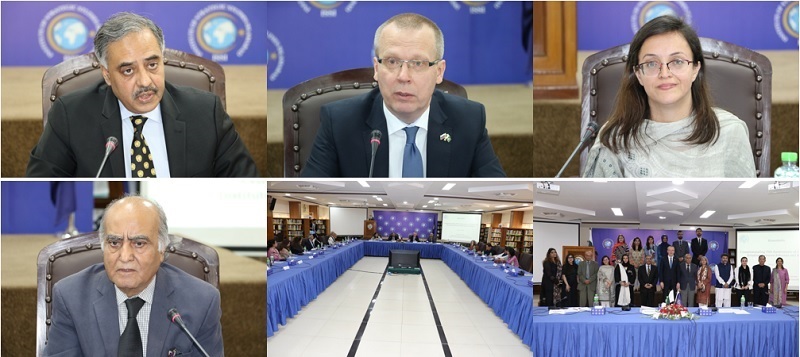 The Centre for Strategic Perspectives (CSP) at the Institute of Strategic Studies Islamabad (ISSI) organized a Roundtable with H.E. Danila Ganich, Ambassador of the Russian Federation to Pakistan, on 'Commemorating 75th Anniversary of Diplomatic Relations between Pakistan and Russia.'
The discussion was chaired by Amb. Sohail Mahmood, Director General ISSI. Participants included: Ms. Sahar Kamran, former Member Senate of Pakistan; Lt. Gen. Asad Durrani (R), Ambassador Nadeem Riyaz, President, IRS; Ambassador Shah Jamal, former Ambassador of Pakistan; Ambassador Tasneem Aslam, former Ambassador of Pakistan and Spokesperson; Major General Muhammad Raza Aizad, DG,ISSRA,NDU; Dr. Tughral Yamin, Senior Research Fellow, IPS; Dr. Farah Naz, Assistant Professor, NUST; Dr. Shabir Ahmed Khan, Director, Area Study Centre for China, Russia & CARs; Dr. Asma Naveed, Professor, NUML; Dr. Afia Malik, Research Economist, PIDE; Mr. Ali Salman, Executive Director, PRIME and Research Associates from CASS and IPRI.
Dr. Neelum Nigar, Director CSP, and the research faculty of ISSI also participated in the Roundtable.
In his welcome remarks, DG ISSI Amb. Sohail Mahmood outlined the different phases of Pakistan-Russia relations over the past 75 years – including in the cold war era, the post-cold war years, and the current phase. He underlined that the relationship, currently, was marked by friendship, increased mutual understanding, and growing cooperation across myriad domains. Noting convergent interests across a range of regional and international issues, he observed that the desire for enhanced cooperation was driven by Pakistan's deepening engagement with the Eurasian region and the imperatives of geo-economics.
During the absorbing interactive session, the deliberations focused on multiple dimensions of Pakistan-Russia relations, which, the participants noted, were marked by cooperation in diverse fields, including energy, security, agriculture, and people-to-people contacts.
In the regional context, developments with regard to Afghanistan, South Asia, Central Asia and regional connectivity were discussed.
The evolving situation with respect to the Ukraine conflict was also reviewed. The prospects of a political settlement and China's potential role in this context was evaluated. Participants shared their views and assessments.
Ambassador Khalid Mahmood, Chairman BoG ISSI, made the concluding remarks.