Press Release
Seminar
on
"25 Years of Youm-e-Takbeer: Promoting Peace, Stability, and Development"
May 24, 2023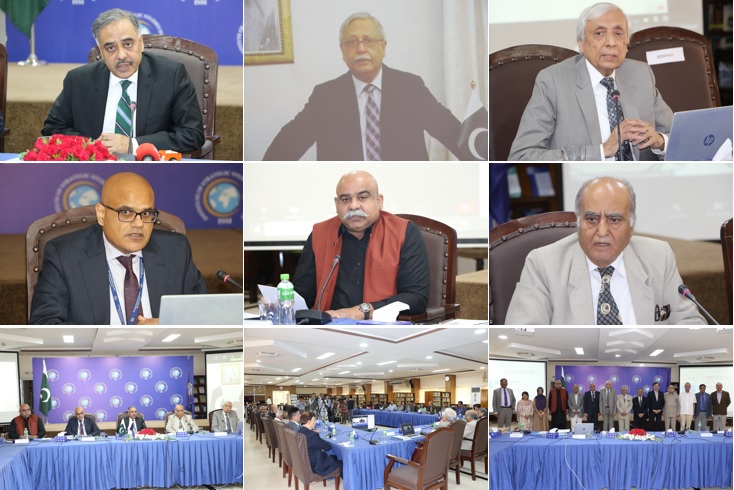 The Arms Control & Disarmament Centre (ACDC) at the Institute of Strategic Studies Islamabad (ISSI) organized a Seminar on "25 Years of Youm-e-Takbeer: Promoting Peace, Stability, and Development."
In his welcome remarks, Director General ISSI Ambassador Sohail Mahmood stated that Youm-e-Takbeer was always an occasion for national pride as well as thanksgiving. He paid rich tributes to the leaders, scientists, engineers, technicians, security personnel, strategists and diplomats who had made invaluable contributions over the decades in Pakistan's nuclear journey. He added that Pakistan's nuclear programme, supported by complete national consensus, remained the bedrock of our impregnable national security and an invaluable source for accelerated socio-economic progress. In the 25 years since crossing the Rubicon, Pakistan had maintained a robust operationalized deterrent capability accompanied by an impeccable nuclear safety and security regime. Pakistan's credentials as a responsible nuclear state had been reinforced internationally. Also, active nuclear diplomacy continued to project Pakistan's policies of restraint and responsibility internationally and make efforts for mainstreaming in the nuclear order.
In introductory remarks, Malik Qasim Mustafa, Director ACDC-ISSI, said that the Pakistani nation commemorates "Youm-e-Takbeer" as a day when it conducted nuclear tests and restored the balance of power in South Asia. Pakistan's nuclear capability has not only augmented national security but had ensured survival against aggression by a large and more powerful adversary, India. Over the years, Pakistan developed a robust command and control structure, stringent export control law, rules and regulations and a national nuclear safety and security regime, which was in line with international law and best practices. Pakistan had pursued peace, stability and development through its nuclear programme.
Lt. Gen. (Retd) Khalid Kidwai, Advisor, National Command Authority, and former DG, Strategic Plans Division (SPD), in a special message paid tribute to the founding fathers of Pakistan's nuclear programme in the political, scientific, strategic and diplomatic fields and salute those whose collective determination, political wisdom, vision and scientific expertise allowed Pakistanis today to live and breathe in an environment of relative peace and stability without fear of external aggression. He stated that Pakistan's deterrence capabilities were well-balanced and comprised of a triad of land, air and sea forces, which operate under the umbrella of a strong command and control system. He elucidated elements of Full Spectrum Deterrence and how it keeps India's aggressive designs including the Indian military Cold Start Doctrine in check. Full Spectrum Deterrence works on strategic, operational and tactical levels with full range coverage of the large Indian landmass to ensure strategic stability in South Asia. It would continue to ensure that instability would not be allowed to be introduced to South Asia. He added that Pakistan's nuclear project had delivered in all areas of national endeavour. The deterrence effects created by Pakistan's nuclear programme were providing a strategic shield for times to come. It had rendered the advantages of relative Indian conventional asymmetry near irrelevant.
Dr Ansar Parvaiz, former Chairman Pakistan Atomic Energy Commission (PAEC), speaking on "Peaceful Applications of Nuclear Technology in Pakistan" highlighted the technological strides that Pakistan's peaceful nuclear programme had made. He also talked about the tremendous contributions of nuclear technology in the fields of health, agriculture, energy and industry. Four centres in the agriculture sector helped improve crops yield, crops resistant to drought and pests, efficient management of water resources, and food preservation. He stated that 19 cancer hospitals operated by PAEC were working on the diagnostic and treatment of cancer across the country. In industry, strides were being made in the field of non-destructive testing. In the energy sector, Pakistan operates 6 Nuclear power plants (NPP). He highlighted that Pakistan had a history of 50 years of safe operation of NPP. He added that K3 and K3 are one of the most advanced NPP. He further explained that nuclear power is a clean and cost-effective option and Pakistan plans to have a capacity of 40,000 MW by 2050. He emphasized the role of nuclear technology in promoting the UN's sustainable development goals in Pakistan.
Mr. Muhammad Kamran Akhtar Additional Secretary, ACDIS and PP/PD, MOFA, made remarks on "Pakistan's nuclear deterrence and Diplomacy." He highlighted Pakistani scientists and the contribution of engineers to socio-economic development through peaceful uses of nuclear technology. He stated that the focus of Pakistan's nuclear diplomacy was manifold. Pakistan wants to qualify as a country with high technology, and would like to export expertise and peaceful nuclear technology. Pakistan was also interested in Nuclear Suppliers Group membership and being an exporter of peaceful nuclear know-how builds up Pakistan's credentials. He highlighted the full legality of Pakistan's nuclear programme underlining that it had never signed the Non-Proliferation Treaty. Thus, it never violated any law by developing nuclear weapons. This has enabled Pakistan to withstand international pressure. Pakistan also had a principled stance on nuclear disarmament. Pakistan advocates that nuclear disarmament should start with countries with the largest arsenals and should address conventional asymmetry among states. He added that Pakistan has consistently proposed a Strategic Restraint Regime in South Asia. Avoidance of an arms race is in Pakistan's interest and it is committed to stringent export controls.
The seminar was followed by a robust question and answer session. Ambassador Khalid Mahmood, Chairman, BOG ISSI, concluded the seminar with a vote of thanks. He stated that in the nuclearisation journey, Pakistan was a reluctant nuclear power. Pakistan made many proposals to keep South Asia free of nuclear weapons, however, India rejected all such proposals. Moreover, he said that all efforts were made internationally to cap Pakistan's nuclear programme, including sanctions but the country remained undeterred in this matter of national security. He lauded the contribution of the scientific community and key government officials in leaping to test nuclear weapons.
The event concluded with the participants giving a standing ovation to all those who had contributed to Pakistan's nuclear programme since its inception.
The Seminar was attended by a large number of eminent former diplomats and servicemen, member of diplomatic corps, academics, area study experts, practitioners, and university students.