Press Release
Special Event
"76 Years of Pakistan-Iran Diplomatic Relations''
 Centre for Afghanistan, Middle East and Africa, (CAMEA)
Institute of Strategic Studies, Islamabad, (ISSI) in Collaboration with the Embassy of the Islamic Republic of Iran and Cultural Consulate Embassy of the Islamic Republic of Iran
February 8, 2023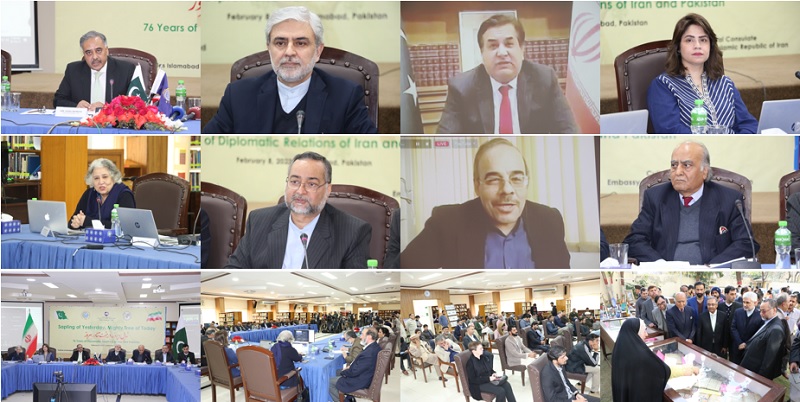 The Centre for Afghanistan, Middle East and Africa (CAMEA) at the Institute of Strategic Studies, Islamabad (ISSI), in collaboration with the Embassy of the Islamic Republic of Iran, organized a special event on "76 Years of Pakistan-Iran Diplomatic Relations."
The speakers included: Ambassador Sohail Mahmood, Director General, ISSI; Ms. Amina Khan, Director CAMEA; H.E. Sayed Mohammad Ali Hosseini, Ambassador of the Islamic Republic of Iran to Pakistan: H.E. Mr. Rahim Hayat Qureshi, Ambassador of Pakistan to Iran; Mr. Ehsan Khazaei, Cultural Counselor of the Embassy of Iran in Pakistan; Amb. Riffat Masood, Pakistan's Former Ambassador to Iran; Mr. Hosseini Ebrahim Khani, Senior Fellow, IPIS Tehran; and Ambassador Khalid Mahmood, Chairman, BOG, ISSI. The event also included an exhibition of Iranian artefacts.
Ms. Amina Khan, while dilating on the subject, stated that Pakistan-Iran relations were time-tested and based on bonds of brotherhood, mutual respect, and support for each other in times of difficulty. The Treaty of Friendship signed between the two countries in 1950 was a reflection of this relationship. She added that Pakistan-Iran relations were all-encompassing and that interests of the two countries converged broadly — including on the situation in Afghanistan, fight against terrorism, and relations with China in the context of regional connectivity.
Speaking on the occasion, DG ISSI Amb. Sohail Mahmood stated that while Pakistan-Iran diplomatic relations were 76 years old, the ties between the people of Pakistan and Iran went back centuries, based on immutable bonds of common faith, history and linguistic affinities. The cultural dimension was the most manifest, as could be seen in a strong Persian imprint on Pakistan's civilizational heritage.  Pakistan-Iran ties were reinforced by a shared commitment to deepen the relationship in its multiple aspects. The two sides' mutual interests ranged from enhanced bilateral trade to energy cooperation to coordination on regional and international issues. The people of Pakistan appreciated Iran's principled support for the just cause of Kashmir. The two countries also shared a crucial stake in a peaceful and stable Afghanistan as that would help advance to agenda of regional economic integration and connectivity. The two countries also supported Muslim causes such as Palestine and countering Islamophobia. They also cooperated closely in regional and multilateral fora and Iran's membership of the Shanghai Cooperation Organization (SCO) would enable further expansion of mutual cooperation. In recent years, increased bilateral exchanges had served as a catalyst for enhanced collaboration and important steps were being taken to strengthen the economic relationship. Rapidly transforming global and regional environments posed new challenges such as food and fuel crises as well as exacerbated tensions and polarization. In the wake of all this, it was important that Pakistan-Iran relations continue to grow on a stable and broader basis as this will serve the cause of peace, security and prosperity in the region.
Ambassador Sayed Mohammad Ali Hosseini, while talking about Iran-Pakistan ties, highlighted that bilateral relations have been growing in various fields. He underscored that solidarity between the two fraternal neighbouring countries was based on various commonalities and linkages which paved the way for a stronger relationship. He added that the volume of trade exchanges between the two countries will reach more than two billion dollars this year. Shedding light on the expansion of cooperation between the two countries, he also identified the energy sector.
Ambassador Rahim Hayat Qureshi, underscored that Pakistan-Iran relations had remained strong throughout history. He mentioned that Iran and Pakistan enjoyed linguistic bonds and the Persian language had a strong influence in South Asia. While talking about the economic ties, he highlighted that MoUs for the establishment of six border markets had been signed. Pakistan and Iran had also opened additional border crossing points and this will help enhance people-to-people contacts and facilitate the border movement, he said.
Cultural Counsellor Khazai, in his remarks, said that Iran and Pakistan have close historical, cultural, religious, lingual and brotherly ties. By virtue of strong cultural affiliations the two countries could be called as 'one homeland, one country'. He further said Iran and Pakistan both had a lot of potential to boost bilateral relations and cultural cooperation could play a major role in bringing the two nations even closer.
Ambassador Riffat Masood, in her remarks, said that "our neighborhood is important" and in this context, Pakistan and Iran must make efforts towards knowing each other better. She said that we must focus on the present and also recognize that there are interdependencies between Iran and Pakistan. Stressing the importance of border trade, she said that we must cooperate in this area further as trade with Iran will bring more dividends to Pakistan.
Ambassador Khalid Mahmood, in his concluding remarks, said that Iran has been a time-tested friend and the bonds of brotherhood continue to strengthen. It was important to accelerate the pace of the initiatives aimed at expanding economic engagement. He concluded that "this is a precious relationship and we must guard it as it reflects the aspirations of the people."