Press Release
Virtual Briefing for the FAST Diplomats at the US Embassy
May 6, 2021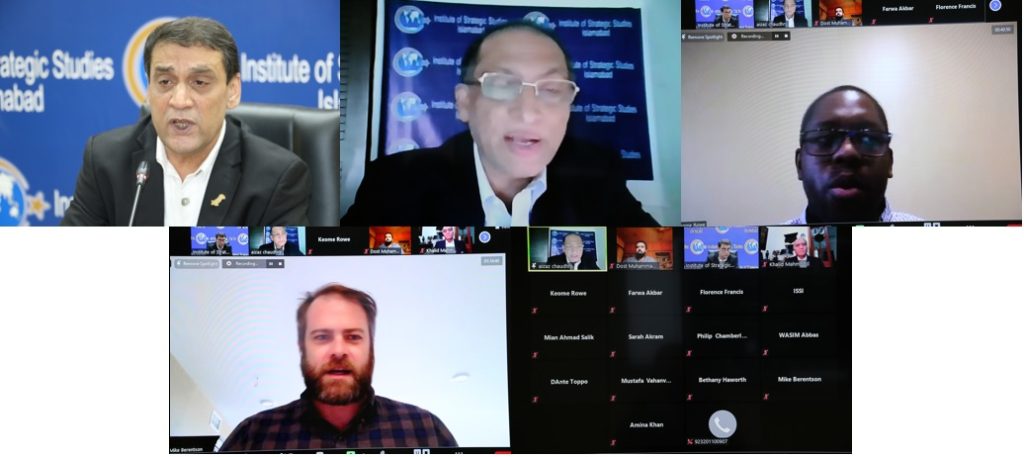 The Center for Strategic Perspective (CSP) at the Institute of Strategic Studies Islamabad (ISSI) held a virtual presentation by the Director General ISSI, Ambassador Aizaz Ahmad Chaudhry on Pakistan-US Relations for the First and Second Tour (FAST) diplomats at the US embassy in Pakistan on May 6, 2021.
Director CSP, Mr. Najam Rafique welcomed the diplomats and briefed them on ISSI and the work being done by the Institute.
Ambassador Chaudhry in his presentation said that overall, bilateral ties have remained robust. Despite the frequent highs and lows in the relationship, it has been very dynamics and has sustained the test of times. He said that it is unfortunate that the US sees Pakistan from certain selective lenses such as security, competition with China, Afghanistan and Pakistan's nuclear program. Ambassador Chaudhry said that developments in four areas – US competition with China, Afghanistan, US support to India and bilateral relations with Pakistan – will have strategic implications for Pakistan-US relations. He said that Pakistan wants to maintain a balanced relationship with both US and China, and Pakistan can act as a bridge between the two countries. With regard to Afghanistan, he said that the US must not abandon Afghanistan as this could lead to civil war and a new flood of refugees. US must ensure a responsible disengagement from Afghanistan. He expressed concerns over America's growing tilt towards India, and, which can harm the balance of power in the region. He said that US must respect Pakistan's sovereignty and must not enable India to become a regional hegemon. With regard to bilateral relations, he said that there are many opportunities for the US to build upon, including investments in the industrial zones being set up in Pakistan under CPEC. He reiterated that Pakistan and US must resume a broad-based Strategic Dialogue. The lecture was followed by a Q & A session. Around 15-18 US diplomats participated in the event.