Press Release
Web -Celebration
Africa Day
25 May, 2021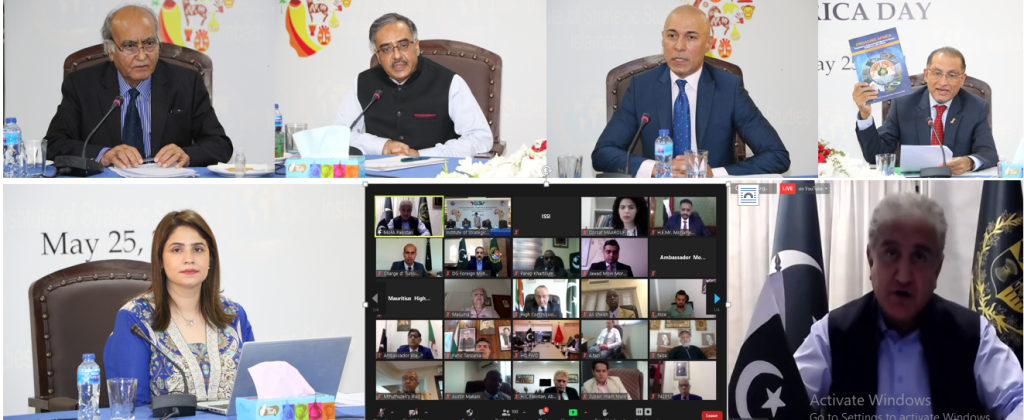 The Centre for Afghanistan, Middle East & Africa (CAMEA) at the Institute of Strategic Studies (ISSI) had a Web-Celebration on the occasion of Africa Day. The distinguished speakers included: Shah Mahmood Qureshi, Foreign Minister of Pakistan, Foreign Secretary of Pakistan, Ambassador Sohail Mahmood, Ambassador Ali Javed, Additional Foreign Secretary Africa, Ministry of Foreign Affairs Pakistan, Maj. General Zahid Mehmood from the Ministry of Defence and Mr. Mohammad Nasir Mirza, President Rawalpindi Chamber of Commerce.
Representatives from African missions in Pakistan, Pakistani missions in Africa, non-residential African missions to Pakistan, academics, members of the business community and students also joined the web-celebration.
Videos on Pak-Africa Ties and Frontier Works Organization were also played on the occasion.
During his remarks, the Foreign Minister first extended heartiest felicitations to the people of Africa. African Union has indeed come a long way and represents hopes and aspirations of the most promising region of the world. He called the African continent the economic powerhouse of the future. He went on to outline Pakistan's relations with African nations and said that deep ethics have always elevated Pakistan's support to Africa. From colonialism to apartheid, Pakistan has stood shoulder to shoulder with its African brothers and has always extended its political support towards Africa. He briefed the audience of how phase one of Pakistan's Engage Africa Policy has been executed. New missions such as the one in Rwanda, have been established and more are in the process of being set up. He said that we now look forward to implementing Phase two and three of the Engage Africa policy. The Foreign Minister stated that Pakistan aims to expand its diplomatic footprint across all 54 African partners. He also talked about targeted support being provided by Pakistan to African countries.
The Foreign Minister said that still a great deal of work remains such as activating, institutionalising contacts with African regional communities, upgrading bilateral relations through joint missions, working in harmony with parliaments, think tanks and academia, elevating bilateral political missions through higher levels and promoting scientific, technical cooperation and enhancing maritime connectivity. He also briefed the audience on how Pakistan has been at the forefront of peacekeeping and peacebuilding missions in Africa and said Pakistan's commitment towards Africa never has and never will falter. He also outlined how despite having modest financial resources, during the covid pandemic, Pakistan was able to extend support to African nations. He concluded by saying that while people say Africa is the continent of the future, in fact the future is here now.
The Foreign Secretary said that Pakistan's engagement with Africa is expanding due to Government's visionary leadership. He said going forward we remain fully committed to enhancing our diplomatic presence on the African continent. He applauded CAMEA at ISSI's efforts towards developing a documentary framework where proposals have been consolidated and must now be implemented.
During the opening session, Ambassador Aizaz Ahmad Chaudhry, Director General ISSI extended his welcome to all participants and outlined how CAMEA at ISSI has been helping to highlight the Pakistan Government's Engage Africa Policy. These events helped generate consolidated documents regarding pragmatic ideas aimed at improvement of economic linkages between the two sides.
The Plenary Session was moderated by Ms. Amina Khan , Director CAMEA.
During her remarks, she said that 'Africa Day' is a day of commemoration, of celebration and of unwavering determination of the people of the African continent who fought courageously for their freedom. It celebrates and acknowledges African identity and unity and the achievements of the Organization of African Unity since its formation on May 25, 1963. The theme of Africa Day 2021 is "Art, Culture and Heritage" which is fitting seeing as Africa is home to 54 countries and around 2,000 languages. She said that we are observing'Africa Day' to mark our mutual ties, celebrate our history, pay homage to the sacrifices of both our forefathers and to look towards a prosperous future partnership. Pakistan has offered support in capacity-building of the African forces in counter-terrorism, security, training and development of human capital, educational and capacity-building courses to a large number of countries. However, despite this engagement, unfortunately the volume of interaction between the two continents has not been as it should be, and there remain immense untapped opportunities particularly, on the economic front. However, this is changing under the vision of Prime Minister Imran Khan's 'Engage Africa' policy where the government is focusing on economic diplomacy as well as adopting tangible measures to establish a robust bilateral economic partnership with the African countries. She concluded by saying that we are hopeful that a better tomorrow awaits Pakistan-Africa ties.
On his remarks on the Pakistan Government's Engage Africa policy, Mr Ali Javed expressed his happiness at the web-celebration taking place at CAMEA at ISSI and hoped that through the establishment of a business to business platform a business forum could also take place in the near future as well as events where culture from both sides can be depicted. He said that long before 1963, Pakistan had very strong relations with African nations and takes pride in providing them support during their freedom movements. Concurrently he noted that Pakistan extends its support to all the oppressed people around the world. He said that almost 160 Pakistani peacekeepers have lost their lives in African peace missions and despite the terror threat back home, continued their peacekeeping duties. 16 more Pakistani missions will soon be established in Africa. NADRA and FWO are already working in Africa. Border surveillance and management, intelligence sharing, counter terrorism are important cooperation sectors. 749 diplomats from Africa have received training from Pakistan's Foreign Services Academy and a significant number of alumni from Africa have visited Pakistan and benefited from scholarships. He said that the Pakistan Foriegn Office extends complete support to all resident and non-resident missions of Africa.
Speaking on Pak-Africa Defense Ties, Maj. General Zahid Mehmood said that firm defense cooperation between Pakistan and Africa span over seven decades. People to people between the two sides have been established over centuries. Both sides share wide ranging defense cooperation with focus on counter terrorism, training and military diplomcy dating back to 1960s. In the domain of military training and cooperation over 4000 African personnel have been trained in Pakistan. Presently Pakistan has bilateral cooperation with seven African countries including DRC, South Africa and Nigeria. The Pakistan Armed Forces have and can further play a vital role in restoring peace and stability in the African continent. Poverty, poor infrastructure, lack of education, civil unrest and many more challenges are demanding that African develop their armed forces accordingly. In this regard, many states in the world today are keen to learn from Pakistan in the domain of counterterrorism. He said that all African countries are invited in Pakistan to participate in joint military training. The Pakistan army if asked can establish counter terror institutes and provide training in avenues such as counter terrorism. He concluded by saying, Pakistan and the Pakistan armed forces are proud of their bond with African countries and wish all future success.
Talking about 'Pak-Africa Commercial Cooperation', Mr. Mohammad Nasir Mirza first commemorated the success of African Unity. He said that the Rawalpindi Chambers has played a vital role in promoting investment opportunities and continues to cooperate with Africa under Pakistan's Engage Africa Policy in boosting trade and networking. He provided great insights into African markets. He also briefed the audience about the Africa Trade Forum which he said would be a great opportunity to further explore trade ties. He commended the remarkable progress made by the African continent and outlined how despite global economic slowdown, African economies are showing promise. He concluded by saying that the Rawalpindi Chambers of Commerce takes pride in setting up Africa as a priority region and wished both Africa and Pakistan immense economic success.
An interactive discussion followed where participants shared their views where they all applauded the achievements of African Union. Speakers outlined how Pakistan has a long history of cooperation with Africa – which they called the continent of the future. They praised Prime Minister Imran Khan's initiative to enhance cooperation through the Engage Africa Policy. Regarding this, chambers of commerce from Pakistan and West Africa are taking concrete steps to cooperate. Pakistan can learn from Africa in terms of energy supply and port development. Africa is also one of the prime destinations for Pakistani goods and services. Speakers stated that Africa is a resource rich country and Pakistan has to engage with Africa through the many windows of opportunity particularly in the fields of energy, pharmaceutical and agriculture. Speakers also outlined how Africa will be the focus of many global economies in the future so the opportunity shouldn't be missed out by Pakistan. In the last 18 months Pakistan has established its footsteps in the education and health department and now it should also focus on establishing a footprint in higher education. Pakistan and East Africa share many similarities and a direct shipping line between the two sides must be established. Despite political good will, there is a lack of interest in Africa primarily due to a language barrier. Pakistan's solidarity with Africa should be transformed into tangible cooperation.
During his concluding remarks, Ambassador Khalid Mahmood, Chairman ISSI said that Pakistan and Africa need to work towards turning their relationship into a substantive partnership. There is cooperation in terms of capacity building and peacekeeping as well as in defense production. Africa is a rising continent with growing economies. Accelerated development in the future will be soon be seen. Pakistan has been keen to develop ties by adopting its Engage Africa Policy, he concluded.