Press Release
ISSI-ISC Webinar on "Pakistan and Thailand: Geo-economics Visions and Policy Frameworks"
16 March 2022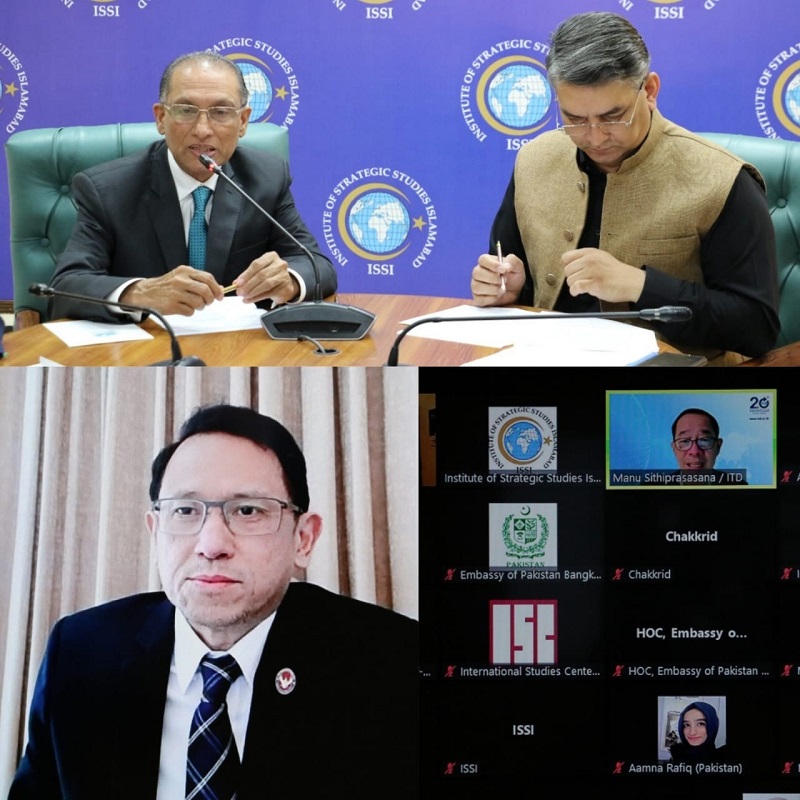 China-Pakistan Study Centre (CPSC) at the Institute of Strategic Studies Islamabad (ISSI) organized a webinar titled Pakistan and Thailand: Geo-economics Visions and Policy Frameworks on March 16, 2022. The event was part of ISSI's external outreach focusing on East Asia. The webinar was moderated by Dr. Talat Shabbir, Director CPSC, while Ambassador Aizaz Ahmad Chaudhry and Dr. Anuson Chinvanno, Director International Studies Center (ISC) made opening statements. Amb. Chakkrid Kraichaiwong, Ambassador of Thailand to Pakistan and Ms. Faiza Haseeb, Deputy Head of Mission, Embassy of Pakistan Bangkok delivered keynote addresses. Other speakers included: Dr. Talat Shabbir, Director CPSC, Dr. Narut Charoensri, Assistant Professor in International Relations, School of International Affairs, Chiang Mai University, Dr. Neelum Nigar, Director Center for Strategic Perspectives-ISSI, and Mr. Manu Sithiprasasana, Executive Director, International Institute for Trade and Development
Amb. Aizaz Ahmad Chaudhry, DG ISSI said, goal of ISSI's engagement with different think tanks is to learn expertise from share ideas and research. As Pakistan is moving from geo-politics to geo-economics, economic security is at the core of ISSI's activities this year. ISSI is focused on learning from ASEAN's geo-economics vision, and within ASEAN Thailand has demonstrated impressive economic growth.
Dr. Anuson Chivyano, Director ISC, in his welcome remarks stated that such collaborative engagements "strengthen or knowledge of respective countries and regions". He hoped that while it is a first event between both sides, it will lead to "more collaboration in future". He identified 'regional development and connectivity' as subjects for future dialogue.
Amb. Chakkrid Kraichaiwong, Ambassador of Thailand to Pakistan, in his keynote commended ISSI and ISC for organising a timely webinar as 2022 marks the 70 anniversary of establishment of diplomatic relations between Pakistan and Thailand. He underlined that Geo-economics is important for both sides and this webinar "reflects the common interest of Thailand and Pakistan". He highlighted the importance of People-to-People contacts particularly, expansion of business linkages, trade and economic connectivity between two countries.
Ms. Faiza Haseeb, Deputy Head of Mission, Embassy of Pakistan Bangkok, in her keynote address underscored that global and regional dynamics are continuously evolving and changing and now policy-makers are realising importance of both human security and economic security. She said that "Pakistan is a key actor in regional economy" as via boosting trade Pakistan can strengthen its economy and its relations with neighbours. She highlighted that under the new geo-economics framework, Pakistan is seeking friendly cooperative relationship with all regional countries.
In the working session, Dr. Talat Shabbir, Director CPSC, highlighting Pakistan's Geo-economics vision underlined that for leveraging Geo-economics Pakistan is open to the world. Pakistan is confident that a country's vision of Geo-economics can bring stability in a state and booster economic clout of Pakistan. Highlighting Pakistan's vision east Asia policy, he said, that it can strengthen its Pakistan's relations with East Asia. Meanwhile, Dr. Narut Charoensri, Assistant Professor in International Relations, School of International Affairs, Chiang Mai University highlight various aspects of the regional connectivity initiatives in the Greater Mekong Subregion.
Dr. Neelum Nigar, Director Center for Strategic Perspectives, ISSI analysed current state of Pakistan-Thailand Economic and trade cooperation and shared recommendations for enhancing bilateral trade. Similarly, Mr. Manu Sithiprasasana, Executive Director, International Institute for Trade and Development shared Thailand's perspective on expanding bilateral trade and economic cooperation.
The webinar was concluded with remarks from Amb. Aizaz Ahmad Chaudhry and Dr. Anuson Chivyano who commended both sides for holding a successful webinar, and hoped that more such events will follow in future.