Press Release
ACDC-ISSI Webtalk
on
"Artificial Intelligence for Socio Economic Development in Pakistan"
April 26, 2022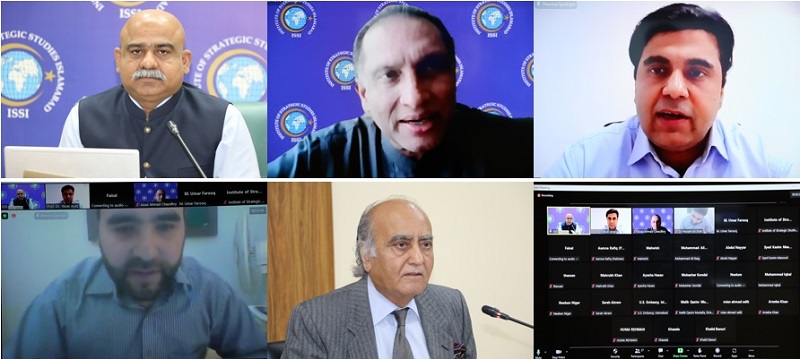 The Arms Control & Disarmament Centre (ACDC) at the Institute of Strategic Studies Islamabad (ISSI) hosted a Webtalk on "Artificial Intelligence for Socio Economic Development in Pakistan" by Dr Yasar Ayaz, Chairman, National Centre of Artificial Intelligence (NCAI), NUST on April 26, 2022.
In his welcome remarks, Ambassador Aizaz Ahmad Chaudhry, Director-General ISSI said that AI is a dual-use technology. It can be used for socio-economic development as well as for military purposes.
Earlier in his introductory remarks, Malik Qasim Mustafa, Director ACDC, said that AI is widely accepted as the major driving force of the fourth Industrial Revolution. The COVID-19 pandemic has shown us how digital technologies and AI-based models have addressed public health management challenges. Likewise, AI can play a substantive role in achieving 17 UN Sustainable Development Goals (SDGs). It is high time for Pakistan to harness AI for its socio-economic development.
"AI is a new electricity." Dr Yasar Ayaz said this in his webtalk. He highlighted the achievements and ongoing efforts of various research labs in the field of healthcare, medical image analysis, disaster management, Urdu speech recognition, crowd management, vehicle recognition system, firearm detection system, and advanced driver and training assessment system. While talking about the access of developing countries to these technologies, he said that in terms of AI infrastructure, the developed world is leading the race. However, the developing states are actively contributing their part in software development.
While expressing his views on the importance of data for AI, Dr Munam Ali Shah, Associate Professor Department of Computer Science, COMSATS, Islamabad, said that AI systems in every field rely heavily on big data and data analytics. There is a need to develop a data management system at the national level for efficient and intelligent use of data.
The presentations were followed by an interactive question and answer session.
In his concluding remarks, Ambassador Khalid Mahmood, Chairman BoG ISSI, stated that AI is a double edge sword. It could be used for military purposes and accelerates the progress toward socio-economic development. He also highlighted the key concerns like human-machine interaction, protection of human rights and the global digital divide.