Press Release
Launch of Foundation Day Special Edition of "PIVOT Magazine"
July 18, 2022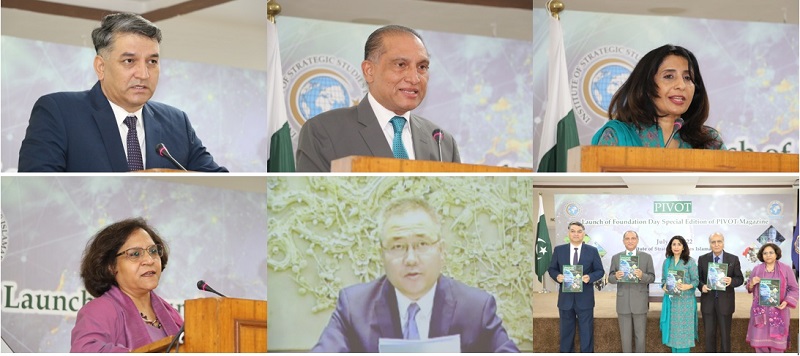 On July 18, 2022, the China-Pakistan Study Center (CPSC) at the Institute of Strategic Studies Islamabad (ISSI) organized the launch of the "Foundation Day Special Edition of PIVOT" magazine. The Chief Guest of the occasion was Additional Foreign Secretary at Ministry of Foreign Affairs (MOFA) Pakistan, Ambassador. Zahra Baloch while the other distinguished speakers were Former Ambassador to China, Naghmana Hashmi; and Minister Counsellor at the Chinese Embassy, Yang Nuo
While making her speech, Additional Secretary at MOFA, Ms. Mumtaz Zahra congratulated the ISSI and CPSC on the launch of the special edition of the PIVOT. She appreciated the vision, hard work, and efforts that ISSI is putting into bringing the best policy-related publications. She complimented the magazine and its entire team for improving the quality, contents, and visuals of the magazine. In her view, the idea of broadening the horizon of the magazine to non-traditional security policy is highly encouraging and timely. She also suggested the magazine team to keep an eye on the regional development particularly the security arrangements in the Indian Ocean such as QUAD.
Director General ISSI, Ambassador Aizaz Ahmad Chaudhry welcomed the guests and introduced the founding vision of the magazine. The Pivot, he stated, is Pakistan and, therefore, we have expanded the horizon of the magazine from China-Pakistan relations to other areas as well. Non-traditional security is also our special focus now. Mr. Chaudhry extended a token of appreciation to the Chief Editor, Dr. Talat Shabbir, and the Editor, Ms. Uroosa Khan.
In his introductory remarks, Director CPSC, Dr. Talat Shabbir thanked all the contributors of the magazine including the Patron-in-Chief and the Editorial and designing team of the magazine. He introduced the audience to the special theme of the magazine which was Pakistan's newly-framed National Security Policy (NSP). He remarked that NSP is inclusive and comprehensive as it covers a broad range of themes from traditional to non-traditional security.
Ambassador Naghmana Hashmi said that publications like Pivot magazine are highly relevant even in the age of social media. The publications of ISSI are well-researched and contain high-quality policy inputs. She praised the visual impact of the magazine and described it as a very catchy magazine. She emphasized that Pakistan-China relations are multi-dimensional in nature and their scope is not limited to China-Pakistan-Economic Corridor (CPEC).
Minister Counsellor at the Chinese Embassy in Pakistan, Mr. Yang Nuo appreciated the DG ISSI and Director CPSC for deepening Pakistan-China relations. He particularly lauded the vision of PIVOT in the context of Pakistan's new policy framework, NSP. He said that China appreciates the policy transition from geo-strategic to geo-economics. In China's neighbourhood policy, Pakistan is an important country and it has been stated by the Chinese leadership on multiple occasions. China is ready to support Pakistan in making it economically stable and thriving.
The event came to an end with the ceremonial display of the PIVOT magazine.