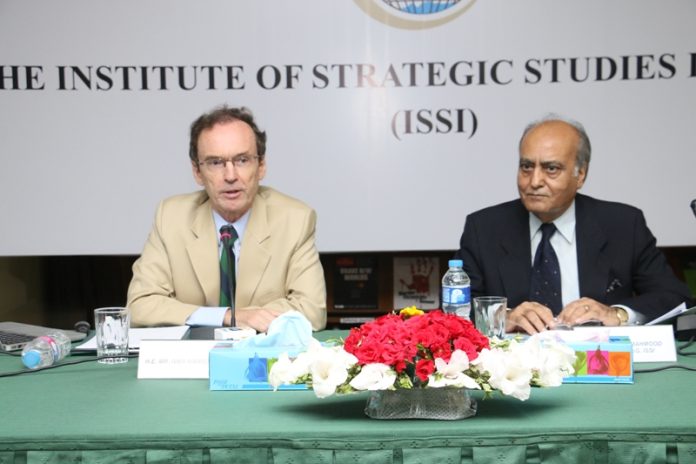 Public Talk
on 
"Debt Restructuring in Developing Countries: The Case of Argentina 2001-2016″
September 7, 2016
Discussing development issues is very important. A debt crisis affects each and every citizen individually. Whenever a country suffers from a debt crisis it has to face capital flight, fall in investments, small and medium size enterprises disappear and face a vicious cycle of poverty.
This was stated by H.E. Ivan Ivanissvich, Ambassador of the Argentine Republic to Pakistan, at a Public Talk on "Debt Restructuring in Developing Countries: The Case of Argentina 2001-2016" organised by the Institute of Strategic Studies Islamabad (ISSI) under its Ambassadors Platform series today.
Ambassador Ivanissvich said that any debt crisis is a very harrowing experience. Though Argentina has faced a number of debt crises in the past, but the crisis in 2001 took fifteen years of negotiations, and finally came to an end after lengthy negotiations and huge forfeitures, in March 2016. The Ambassador then went on to describe, step by step, of how his country managed to get out of the debt crunch. He stated that a primary lesson to be learnt from Argentina's case is that no country should put itself in a position where it has to restructure itself. He also forewarned that any debt crisis coupled with long and protracted negotiations have a negative impact on poverty which continues to occur even after the issue has been redressed.
He said that up till now, Pakistan has managed to avoid a similar situation and it should continue to do so. The Ambassador went on to say that had it not been for China and some emerging economies, the world would already have seen a major crisis in 2011. He lay emphasis on the fact that if more developing countries become emerging economies it will be better, and debt crises can be avoided.
Earlier, Ambassador Khalid Mahmood, Chairman Board of Governors of ISSI, in his welcome remarks said that Pakistan and Argentina have a long history of very friendly ties and collaboration at all forums. For many years, both countries have been exchanging young diplomats for training. Regarding the topic of the day, Ambassador Mahmood stated that the subject of debt repayment is very important- in fact it is part of the Sustainable Development Goals  (SDGs) 2030. He applauded the Argentine authorities for successfully coming out of the excruciating debt process after 15 years of careful planning and hard work.
Later, Ambassador Mahmood, in his concluding remarks commended Ambassador Ivanissvich for explaining a complex situation in simple words. He restated that high and rising debt causes serious threat to an economy's development by creating uncertainty both within the country and abroad. He reiterated that defaulting on a debt should be avoided because it puts a country's security at risk and pointed out that the Argentinean experience is a superb case study, and that the international community should use it to set up proper guidelines for coping with the debt process.