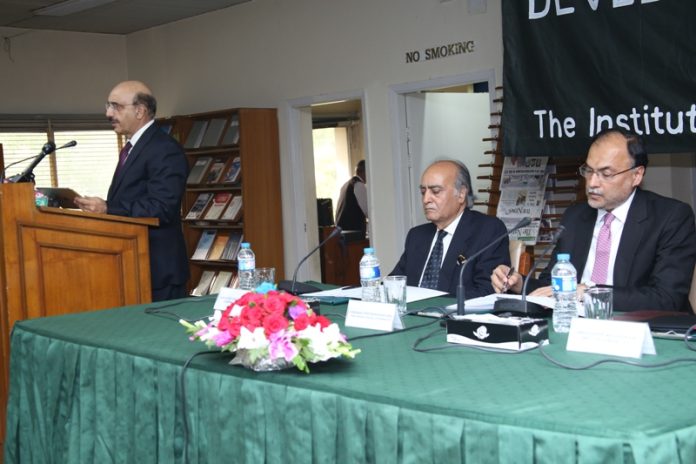 The Institute of Strategic Studies hosted a public talk on the topic "Imperatives of Peace and Development in Pakistan". Minister for planning and development Mr. Ahsan Iqbal was the chief guest of the event. The talk was attended by the Chinese Ambassador H.E. Mr. Sun Weidong, American Ambassador H.E. Mr. Richard Olsen, Ambasasdor of Republic of Korea H.E. Mr. Jong Hwan Song and Ambassador of Tajikistan to Pakistan H.E. Mr. Jononov Sherali
Mr Ahsan Iqbal stated that lack of planning by the previous governments has landed the country in dire straits. He laid out his vision 2025 and how it is meant to not only maintain economic growth but also transform this into economic development. He elaborated the Government strategy for economic development underpinned by five enablers and seven pillars which would lead Pakistan to become one of the top ten economies by 2047. He also highlighted the effort being made to bring about a knowledge revolution in Pakistan.
The Director General Institute of Strategic Studies Mr. Masood Khan in his opening remarks stated that Pakistan's economy has recovered from the past setbacks and has become robust which is reflected in the ratings of the Pakistan economy by international economic institutions. He also stated that this positive outlook should help Pakistan to attain a higher level of sustainable growth and development, which are equitably shared by the people of Pakistan.
Mr. Khalid Mehmood, Chairman of the Board of Governors of ISSI, in his concluding remarks said that Pakistan would continue to work for a peaceful neighborhood so that it is not distracted from its development goals.
Faraz H/12102015