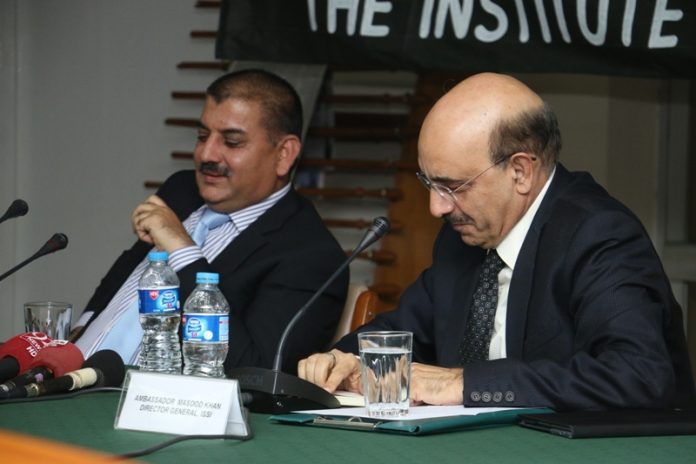 The Institute of Strategic Studies, Islamabad organized a Public Talk today on "The Role of FWO in National Infrastructure Development and Implementation of China-Pakistan Economic Corridor". Maj. Gen. Muhammad Afzal, Director General, Frontier Works Organization was the guest speaker at the occasion.
Welcoming the guest speaker, the Director General, ISSI, Ambassador Masood Khan said that the Frontier Works Organization (FWO) is a symbol of excellence in the country, and has demonstrated highest standards of engineering competence which has enhanced its national and regional exposure and stature. The sheer expanse and technological thresholds of the organization has led it to undertake multiple accomplishments and initiatives at the national level, and now with regard to developing the infrastructure necessary for the implementation of the China-Pakistan Economic Corridor (CPEC).
Maj. Gen. Afzal said that China-Pakistan Economic Corridor is going to be a game changer which will not only change the fate of people of Pakistan, but will benefit the whole region.
He said that the Frontier Work Organization is a pioneer in implementing the CPEC and is committed to completing the assigned projects well before stipulated time lines. He said that FWO has already completed 556 kilometers of the 870 kilometer road network in Balochistan as part of Western Route of CPEC in less than one and a half year. Maj. Gen. Afzal said that the progress of work is 1.5 kilometers per day, which is unprecedented in the field of road construction by international standards.
He said that presently, 12 units of FWO were deployed on the Balochistan projects and FWO is determined to timely complete the onerous but formidable task despite logistic concerns in wake of remoteness of area and tough terrain conditions. FWO has employed almost sixty percent of its resources to timely complete various sections along the western route including Gwadar-Turbat-Hoshab section of Gwadar-Ratodero Highway, widening and improvement of Hoshab-Nag-Bisma-Surab Highway and few sections of Road Kalat-Quetta-Chaman.
He said that completion of these roads during next year will facilitate operationalization of Gwadar Deep Sea Port through enhancing its overall connectivity.
  Najam R/21102015